The U.S. State Department on Friday called on Vietnam to release all "prisoners of conscience" immediately, one day after a Vietnamese court conducted a one-day trial of an activist and sentenced him to 20 years in prison.
Le Dinh Luong, 53, was arrested last year after encouraging people to boycott a National Assembly election, writing Facebook posts that expressed views against the party and state, and inciting protests against a Taiwanese steel firm, according to the communist-party-run newspaper Nghe An. He had been charged with attempting to overthrow the state.
Luong's lawyer said he will appeal the verdict.
Reuters
Reporting by Lesley Wroughton and Makini Brice
**********************************************
See also:
Viet Nam: New research reveals almost 100 prisoners of conscience as crackdown on dissent intensifies
https://www.amnesty.org/en/latest/news/2018/04/viet-nam-new-research-reveals-almost-100-prisoners-of-conscience-as-crackdown-on-dissent-intensifies/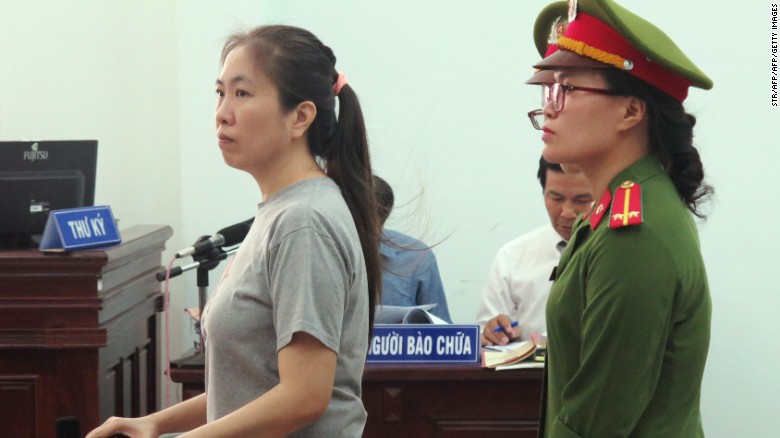 Nguyễn Ngọc Như Quỳnh, better known as Mẹ Nấm (Mother Mushroom)
****************************************
Le Dinh Luong, 53, a Catholic, was taken into custody on July 24, 2017, and accused by authorities of membership in the U.S.-based Vietnamese opposition party Viet Tan, which Vietnam regards as a terrorist organization, and of calling for a boycott of parliamentary elections in 2016.
A veteran of Vietnam's 1979 border war with China, Luong had also written on Facebook calling for compensation for fishermen affected by the April 2016 waste spill by Taiwan-owned Formosa Plastics Group's steel plant.
The environmental disaster destroyed livelihoods across Vietnam's central coast and led to widespread protests and arrests in Nghe An and other coastal provinces affected by the spill.
Speaking to RFA's Vietnamese Service after Thursday's trial, defense lawyer Ha Huy Son slammed the sentence handed down to his client, saying the court had presented "no evidence" to show that Luong had worked to overthrow the government, a charge frequently brought under Article 79 of Vietnam's Penal Code to arrest and imprison democracy and human rights activists in the country.
"They based their decision on the testimony of two witnesses, Nguyen Van Hoa and Nguyen Viet Dung," Son said. "But both of them have retracted what they said in earlier testimony."
"They now say that they were beaten and forced to say what they did," he said.
Also speaking to RFA, defense lawyer Dang Dinh Manh said that Luong's attorneys had asked that both men be brought to court so they could be questioned on their previous testimony.
"However, a police officer came forward and said that Nguyen Van Hoa had a sore throat and Nguyen Viet Dung had a stomach ache, and so neither of them were fit to testify," he said.
'More will step forward'
Writing in an Aug. 15 statement, Phil Robertson—Deputy Asia Director for the international rights group Human Rights Watch—called for Luong's immediate release and demanded that Vietnam drop all charges against him.
"The government should understand that locking people up for simply exercising their rights isn't working, and [that] more activists will continue to step forward to speak their mind and hold protests against government injustices."
"Vietnam is well on its way to having the largest population of political prisoners in Southeast Asia, and foreign trade partners and donors should demand this rolling crackdown stop," Robertson wrote.
"Le Dinh Luong has done nothing wrong and the People's Court of Nghe An province should drop all charges and release him immediately."
Meanwhile, the U.S.-based Viet Tan organization on Thursday condemned what it called Luong's "unjust conviction," saying the charges against him were "vague" and based mainly on police investigations of his Facebook postings and community organizing activities.
"Criminalizing peaceful activism and the use of Facebook is a violation of human rights and civil liberties," Viet Tan said.
Rights group Amnesty International estimates that at least 97 prisoners of conscience are currently held in Vietnam's prisons, where many are subjected to torture or other ill-treatment.
https://www.rfa.org/english/news/vietnam/overthrow-08162018144518.html