Leader will head to southern manufacturing base in the coming days, sources say
He may also attend the official opening ceremony of the new Hong Kong-Zhuhai-Macau bridge
"But the general direction of China won't change."
South China Morning Post
PUBLISHED : Friday, 19 October, 2018, 7:18am
UPDATED : Friday, 19 October, 2018, 12:23pm
Chinese President Xi Jinping will soon embark on what he hopes will be a confidence-boosting tour of Guangdong province, according to sources familiar with the matter, as the manufacturing and export base begins to feel the impact of the country's trade war with the US.
While the leader's itinerary is a closely guarded secret, the South China Morning Post reported on Wednesday that he might attend the official opening ceremony for the new Hong Kong-Zhuhai-Macau bridge, which is set to take place on Tuesday.
The bridge is key to country's connectivity plans for the Greater Bay Area, its tech-led economic zone that has aspirations to rival California's Silicon Valley.
China's export base lures professional services as trade war bites
Guangdong is where China's economic liberalisation began 40 years ago, and while there, Xi might inspect some hi-tech firms, visit factories and talk to local people and officials in the cities of Guangzhou, Shenzhen and Zhuhai, the sources said.
One of them said he may visit Sun Yat-sen University, which was founded in 1924 and whose library houses a display of Karl Marx transcripts and early publications.
Coming as it does on the 40th anniversary of China's "reform and opening up", a dramatic policy shift that allowed China to transform itself from a closed communist backwater into an economic powerhouse, Xi's visit is symbolic.
It also comes as doubts are growing over Beijing's commitment to becoming a more market-oriented economy.
China's export base courting foreign investors as trade war bites
Liao Qun, chief economist at China Citic Bank International in Hong Kong, said Xi would use the trip to shore up economic confidence.
"Xi will send a message that Beijing is committed to the road of reform and opening up and will do more in this regard amid the trade war with the US," he said.
He might also stress the importance of hi-tech development and the Greater Bay Area, Liao said.
Chinese economist Hu Xingdou said Xi's visit to Guangdong might be the catalyst for "the third round of ideological emancipation" in China, after a first round in 1978 and a second in 1992.
China's former paramount leader Deng Xiaoping visited Guangdong in 1992 to restart the process of economic liberalisation, which was initiated in 1978 but halted by the 1989 pro-democracy movement and the bloody crackdown on June 4.
His visit is remembered as a watershed moment for China as it ushered in capitalist ideals and the nationwide pursuit of wealth. Hundreds of thousands of government officials and state workers left the security of the public sector and opened their own businesses.
At the same time, the red carpets were rolled out for foreign investors, the command economy system was dismantled and ties between China and US strengthened, partly thanks to lobbying by US business groups, which paved the way for China's economic boom and, a decade later, entry into the World Trade Organisation.
Now, after four decades of almost uninterrupted economic growth, China's economy is slowing. Its gross domestic product for the third quarter of this year is estimated to have grown at its slowest rate for a decade.
China is also grappling with structural problems, such as a widening wealth gap, serious pollution and a rapidly ageing population.
Beijing is also facing fresh demands and criticism from the West. Earlier this month, US vice-president Mike Pence accused Beijing of paying "lip service" to reform and opening up and said Deng's policy "now rings hollow".
Guangdong's US$65 billion plan to help move China up the hi-tech industry chain
Meanwhile, China's once-booming private economy is losing ground to the state sector, which benefits from preferential government policies and low cost loans from state banks.
Many firms, including some in Guangdong, are considering relocating their operations outside China, just as the country's middle classes are trying to move their money overseas amid tighter government controls on capital outflows.
Since Xi came into power in late 2012, he has led a campaign to bolster the party's authority in all walks of life, while overseeing the state's absorption of private firms and significant tax increases.
"Hopes are high on Xi to clarify two issues: the relationship between the state and the private economy, and the one between the rule of law and the rule of man or party," Hu said.
While in Guangdong, Xi might visit Shenzhen, a thriving city of 13.6 million people that was just a fishing village when Deng visited.
Known as a world-class manufacturing base, it exemplifies how China has moved up in the value chain.
Trump doesn't fully understand how global trade works, ex-negotiators say
Xi's father, Xi Zhongxun, was a senior official who helped to implement Beijing's reform and opening up policies in Shenzhen.
However, the prevailing mood among businesses in the hi-tech hub is not good. A businessman in the city who asked not to be named but has close links to investors in the hi-tech sector, said the trade war and China's economic slowdown had seriously undermined investor confidence.
"Everything seemed prosperous about half a year ago with ideas like 'Made in China 2025' and the Greater Bay Area lifting market expectations," he said.
But that optimism quickly vanished due to the trade war and a slump in the share prices of technology firms. The value of shares in Tencent, one of China's internet giants, has fallen by about 40 per cent in Hong Kong since March.
The benchmark Shenzhen component stock index, meanwhile, has fallen 60 per cent since its peak in June 2015.
While Xi would not be able to pull rabbits out of his hat during his Guangdong trip, he could confirm Beijing's policies, a government adviser who asked not to be named said in an interview.
"China is in defensive mode because of the trade war," the person said. New reform and opening up measures, if there are any, would be technical instead of strategic and could focus on "improving the business environment and modest tax cuts", he said.
On a trip to northeast China's rust belt at the end of last month, Xi said the country must become more self-reliant. While in the region he visited state-owned factories and said they were important to China's economic future.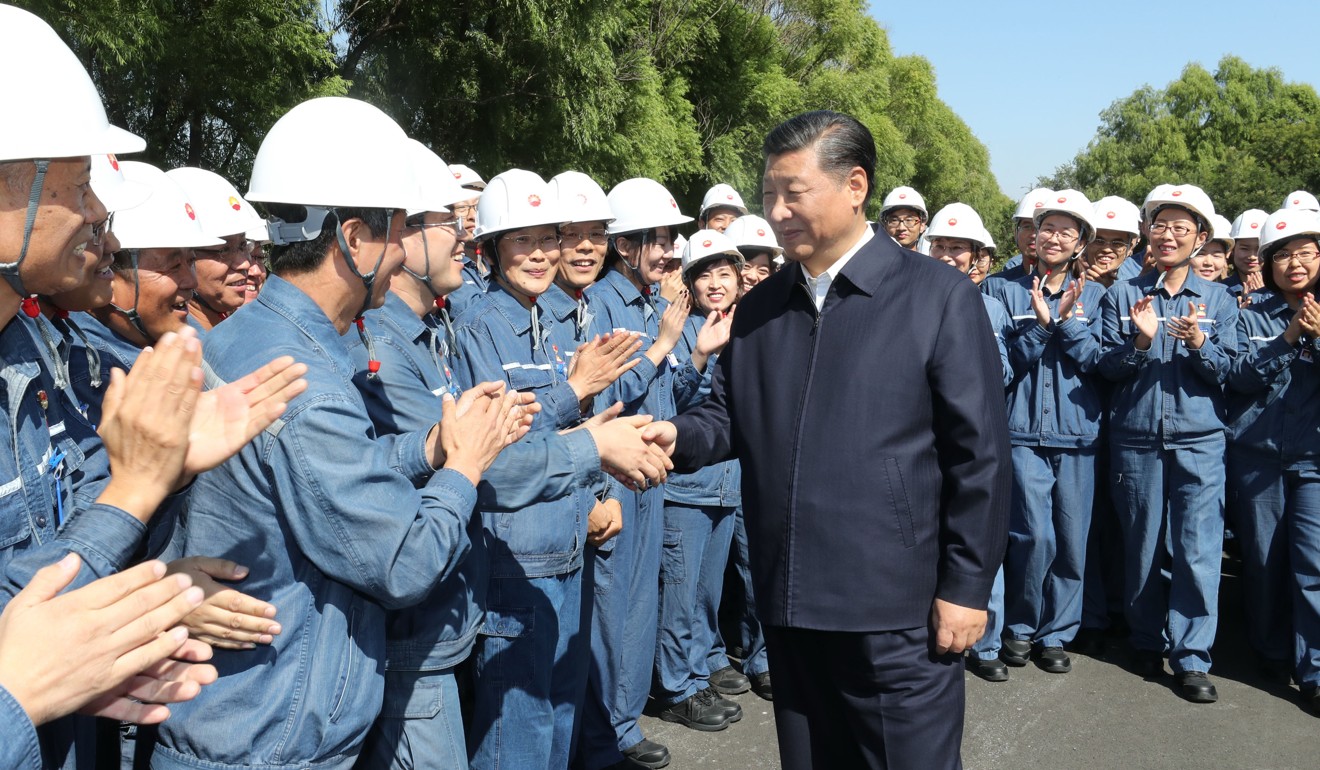 Earlier this year, before the US imposed its first trade tariffs on Chinese imports, Xi visited the southern island province of Hainan and pledged to make it a free-trade zone and a new front in China's opening up to the outside world.
However, the policy guidelines for such a move released this week fell short of expectations. The blueprint made no mention of allowing horse racing or casinos on the island, or of a local government plan for uncensored internet access.
'Made in China' hi-tech plan will 'push out foreign firms'
Xi visited Guangdong in December 2012 after taking over as general secretary of China's Communist Party. On that trip he visited Deng's statue in a Shenzhen park and pledged to continue the former leader's work.
Zhao Xijun, a professor at Renmin University in Beijing, said Xi was trying to take China's opening up to "a new level with higher aims" but also ensuring it served its "own purposes".
"Today's situation is very different from that in 1970s, 80s or 90s," Zhao said. "But the general direction of China won't change."
Additional reporting by Choi Chiyuk, Nectar Gan, Sidney Leng, Wendy Wu and Frank Tang
https://www.scmp.com/news/china/politics/article/2169190/chinese-president-xi-jinping-set-visit-guangdong-boost
Related:
China's middle class spend less as they scrimp and save for their children's education
China wants its middle class to solidify economy as trade war hits
Desperate Chinese middle class take big risks to move money, and themselves, overseas