Donald Trump is on course to reshape the world of the Obama era in ways we cannot even imagine today, making it impossible to know what his long-term impact will be. It is now obvious that the post-World War II norms may be coming toward an end…
From Louis Golino, Rockville, MD, US
© Bloomberg
Janan Ganesh, in " Trump's foreign policy will not outlast his whims" (July 19), argues that it would be a mistake to assume that President Donald Trump will have a lasting impact on US foreign policy. I think it would also be wrong to assume the opposite.
First, especially if he is in office for two terms, he will reshape the world in ways we cannot even imagine today, making it impossible to know what his long-term impact will be.
Second, most Republican voters share his international approach, including his opposition to Nato and his pro-Russian policy.
In a poll from Axios, 79 per cent of GOP voters said that they approved of his recent meeting in Helsinki with Vladimir Putin, and in a CBS poll, 68 per cent of these voters approved of his handling of that meeting.
These are remarkable numbers considering the criticism of this meeting from the rest of the electorate and many GOP political and media figures.
On Nato, it is true that Americans as a whole approve of the alliance, but that overlooks the partisan split. A recent YouGov poll found 45 per cent of GOP voters have an unfavourable view of Nato compared with only 37 per cent with a positive view, and Mr Trump's voters oppose the alliance more strongly, by 54 per cent compared with 33 per cent in favour.
As long as Republican voters hold such views, I would expect any future GOP presidential nominee to follow the broad outlines of Mr Trump's policies, in other words, fervently nationalistic, critical of Europe and multilateral institutions, and unlikely to intervene abroad to save another country such as Montenegro.
Louis Golino
Rockville, MD, US
https://www.ft.com/content/5f9ab456-8ab3-11e8-bf9e-8771d5404543
Related:
Officials' Stark Warnings on Russia Diverge From White House View
Trump warns Iran's President Rouhani: 'NEVER, EVER THREATEN THE UNITED STATES AGAIN'
Trump can shut down his Russia critics with one bold move: Poland
Donald Trump and Vladimir Putin want to create a new world order
Kissinger talks Putin, Trump, AI and more over lunch with the FT
Henry Kissinger on Donald Trump:
'I think Trump may be one of those figures in history who appears from time to time to mark the end of an era and to force it to give up its old pretenses.'
Europeans leaders worry Trump wants to fulfill promise to bring American troops home
China's Luck on Yuan Devaluation Risks Running Out on Trump Ire
.
.
.
.
.
.
.
.
.
.
China can hurt America in trade war six ways from Sunday
Made in China 2025: Beijing's manufacturing blueprint and why the world is concerned
The chip industry's fight to protect its IP from China
US manufacturers report record-high optimism after tax reform
U.S. Senate passes defense bill, battle looms with Trump over China's ZTE (Trump made a deal on ZTE at the personal request of Xi Jinping but the U.S. Congress may undermine or destroy the deal)
U.S. Manufacturing Jobs Reach Highest Level in 8 Years — 12,392,000
US hostility means Iran must boost China, Russia ties: official (Actually, Iran has been in bed with Russia and China for some time….)
We Are Only in a "Time Out" — Why We're Headed For A Long, Cold U.S. And China Trade War
Peace and Freedom Note: Donald Trump wants a "New World Order" which includes a totally new way of looking at China, free and fair trade without tariffs or government support to businesses, strong rights of nations to decide for themselves without joining international bodies like the EU, and a new balance between liberal ideology and free and fair media reporting and government. He wants to end the very expensive post-World War II "norm" of a stand-off in Europe between Russia and the West. He wants a future of jobs and manufacturing in the U.S.
Donald trump believes the United States is a friend of Israel and Saudi Arabia.
Trump doesn't want the U.S. to be the world's piggy bank. He in not likely to roll over and play dead.
China wants to dominate global trade, manufacturing and technology; according to Made in China 2025. What China cannot create in technology it has no qualms about stealing.
Donald Trump believes china's behavior needs to change.
Related:
US-China Trade: "We've got to stand up to Chinese economic predation."
China Spreads Its Wings (Further) With $10 Billion Credit Line for Iran
Lockheed Martin F-35 Fighter Poised To Become One Of America's Biggest Exports
F-35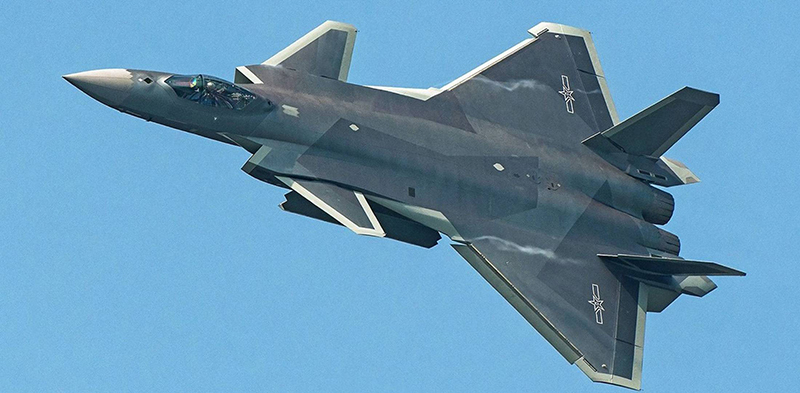 Above: China's stealth fighter
Related:
China proudly debuts its new stealth jet it built 'by hacking into US computers and stealing plans'
See also:
Understanding China's perpetual wars against its neighbours.
https://survivaltricks.wordpress.com/2017/04/01/%E2%80%8Bunderstanding-chinas-perpetual-wars-against-its-neighbours/