Army chief tries to allay fears of drift to authoritarianism under Bolsonaro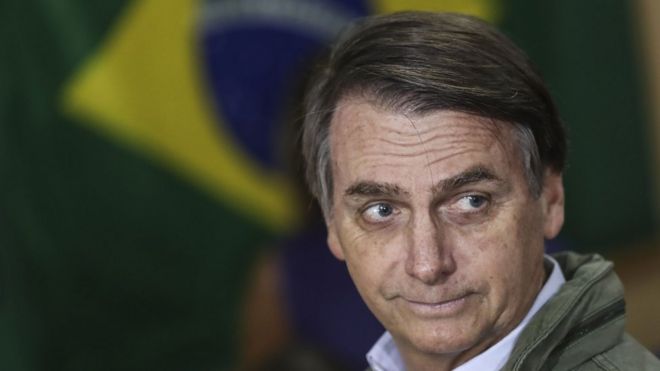 Brazilian voters were not swayed by fears that Jair Bolsonaro would erode the country's democratic institutions
By Joe Leahy and Andres Schipani in Brasília
Brazil's senior military leaders moved to calm concerns that the incoming presidency of far-right politician Jair Bolsonaro would usher in the return of the armed forces to power in the world's fourth-largest democracy.
The election of Mr Bolsonaro, a former army captain who has expressed nostalgia for the country's 1964-85 military dictatorship, did not "represent a return of the military to power", said General Eduardo Dias da Costa Villas Bôas, commandant of the Brazilian army.  "The military has been absent from politics since 1985, after the end of the military government, and that's how it intends to maintain itself, independent of whether the president-elect is a retired captain from our Brazilian army," he added in an interview with the FT.
Once a fringe-dweller in Brazil's congress for his views endorsing the country's former military rule, including its use of torture, Mr Bolsonaro has sought to allay concerns about his democratic credentials after winning elections late last month.
Although he has a strong base of far-right supporters, his victory was also seen as a referendum on the leftist Workers' Party (PT) which was bidding for a fifth consecutive presidency. The PT presided over the country's worst recession, biggest corruption scandal and a rising homicide rate in its last years in power, leading many voters to favour Mr Bolsonaro's promises of greater security and a return to traditional "family values".
But Mr Bolsonaro's radical past rhetoric, disparaging remarks about gays, women and black people, and verbal attacks against leftist foes had led some to fear the veteran congressman would lean towards authoritarianism when he takes office on January 1.
"For me there's an evident risk above all because of the indisposition of the president-elect as regards democracy," said Francisco Martinho, a historian of conservative and authoritarian governments at São Paulo university. He said the test would come when Mr Bolsonaro faced a moment of civil tension, such as a strike or legal challenge.
Since winning the election, Mr Bolsonaro has sought to underline his commitment to Brazil's democratic constitution, appearing in congress last week at a ceremony to mark the 30 years of its existence. "In a democracy there is only one north, that of the constitution," he told lawmakers holding a copy of the document.
General Villas Bôas said the country was "politically mature" with strong institutions. "Brazil will not turn into a fascist country. That's not in our nature," he said. "The armed forces adopted the democratic axis of the federal constitution. There is not space for exotic adventures."
General Villas Bôas
Military officers are hopeful the new government would provide them with more resources, particularly for patrolling Brazil's vast land frontier. According to World Bank data, the country is already home to the largest armed forces in Latin America, followed by Colombia which was fighting a Marxist insurgency until 2016.
Mr Bolsonaro is making use of them, having named former generals as possible ministers, including retired general Augusto Heleno as national security adviser. Referring to suggestions from some quarters the presence of generals in the cabinet could signal a resurgence of military rule, General Heleno said: "That is so much nonsense — it is not even worth considering."
He pointed out that there were already generals serving on the cabinet of incumbent President Michel Temer and also in the US. "The country invests a lot in its military in terms of intellectual preparation, strategic knowledge, political knowledge and principally knowledge of Brazil," he said, saying this expertise could be put to use in government.
Evan Ellis, professor of Latin American studies at the US Army War College, agreed that having a Brazilian president "that once served as a junior officer and admires the military" would not bring about a return to military rule in Brazil, any more than US President Donald Trump's appointments, such as retired general John Kelly as chief of staff or HR McMaster as national security adviser, "has brought about militarisation in the US".
Some of Mr Bolsonaro's proposals could, however, face opposition from his erstwhile colleagues in the military, including moving the country's embassy from Tel Aviv to Jerusalem, analysts said. This would rile trading partners in Muslim countries in the Middle East and also Brazil's own extensive Arab communities.
Military officers also dismissed expressions of hostility among some in Brazil's far-right towards socialist Venezuela, which is engulfed in economic crisis, and talk that the border between the two nations would be shut. "Closing the border is a utopia," General Heleno said, adding that Brazil would remain open to help Venezuelan refugees.
https://www.ft.com/content/4c37269e-e2db-11e8-a6e5-792428919cee