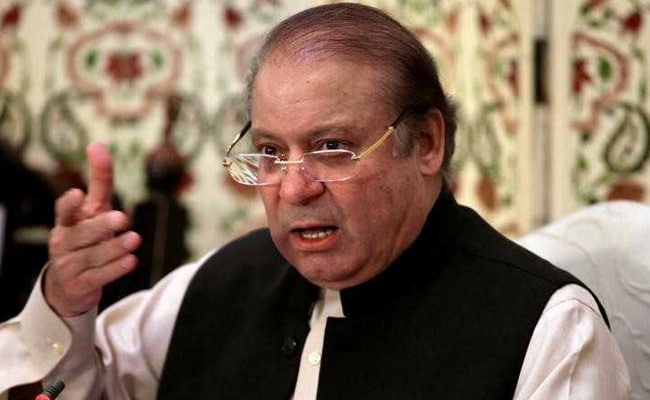 ISLAMABAD: Former prime minister Nawaz Sharif asserted on Tuesday that uncivilised restrictions cannot be placed on anyone in the country.
"The world has changed and so should we. Old mistakes should not be repeated," he said while talking to reporters inside the accountability court hearing corruption cases against him.
Referring to the Lahore High Court's Monday verdict banning 'anti-judiciary' speeches, the former premier said the court should make clear what 'anti-judiciary' means.
"We cannot restrict someone from speaking," he said, adding that he wanted everyone to go along together.
"Elected governments made historic decisions, including the atomic tests which were completely conducted by the civilian government," claimed Nawaz.
The three-time prime minister said he does not regret moving on. "We moved on did but not compromise. The other side should have moved on too," he asserted, terming unfortunate the dharnas (sit-ins) carried out in the country against his government.
He said the National Accountability Bureau is inquiring into the widening of Raiwind Road in 2013 [which leads to Nawaz's residence], adding that, "in 1990 we started the motorway there should be a case on it too and one over the atomic tests".
"I see widespread discord if the people's aspirations are not adhered to," he said further.
Referring to recent waves of defections within the party, the PML-N supremo said those who left us were never ours. Adding to that, Nawaz's daughter Maryam said the PML-N has its dedicated vote bank which is not seasonal.
Talking about the government's plan to merge the Federally Administered Tribal Areas with Khyber Pakhtunkhwa province, Nawaz said the tribespeople should get their rights.
Includes video:
https://www.geo.tv/latest/191404-world-has-changed-we-shouldnt-repeat-old-mistakes-nawaz
*********************************************
Nawaz Sharif leaves for London
Lahore: Pakistan's deposed prime minister Nawaz Sharif, on Wednesday, left for London along with his daughter to see his ailing wife amid speculations that he might not return because of a likely conviction in three corruption cases against him.
As Sharif's family spokesman did not reveal his return schedule, analysts in Lahore believe that it is likely that Sharif will skip his appearance before a combined investigation team of the National Accountability Bureau (NAB) in Lahore on 21 April.
NAB has summoned Sharif for allegedly misusing his authority for illegal construction of a road leading to his Jati Umra, Raiwind residence. Sharif, who was disqualified by the Supreme Court, is due to appear in the accountability court on 23 April in a corruption case. But, it is likely that he may skip it.
"Begum Kulsoom Nawaz has been under treatment in a hospital in London as her condition is serious," the family spokesperson said, adding that because of her serious condition Sharif and his daughter have to be with her.
Maryam also tweeted about her mother. "My mother is hospitalised again. Remember her in your special prayers. I know prayers can do wonders. Allah answers prayers," Maryam tweeted.
Kulsoom, last year, had undergone a surgery for lymphoma (throat cancer). Her condition recently deteriorated and she was hospitalised.
Last week, Pakistan prime minister Shahid Khakan Abbasi had shown reluctance to place the names of Nawaz Sharif and his family on the Exit Control List (ECL).
The NAB had asked to include the names of Sharif's children, Maryam, Hassan and Hussain,  his son-in-law retired on the ECL.
All of them are being tried in accountability courts over the Panama Leaks cases. Sharif's two sons are already in London. They have been declared proclaimed offenders by the accountability court in the corruption cases against them.
Opposition parties especially the Pakistan Tehreek-i-Insaf has criticised the government for not placing the Sharif family on ECL.
"Nawaz Sharif and Maryam left the country at the time when a decision against them by the accountability court is about to come," Pakistan Tehreek-i-Insaf senior leader Babar Awan said and claimed that Sharif would not return to the country.
"Nawaz Sharif has left the country on the pretext of his wife's ailment," he said.
https://www.firstpost.com/world/nawaz-sharif-leaves-for-london-to-visit-ailing-wife-opposition-speculates-he-might-be-trying-to-flee-pakistan-before-likely-conviction-in-graft-cases-4436497.html
Updated Date: Apr 18, 2018 14:48 PM
Pakistan Tehreek-i-Insaf