Leaders' meeting was 'a strategic choice and the only right choice' for the two countries, Xi says
South China Morning Post
PUBLISHED : Wednesday, 28 March, 2018, 9:45pm
UPDATED : Wednesday, 28 March, 2018, 11:52pm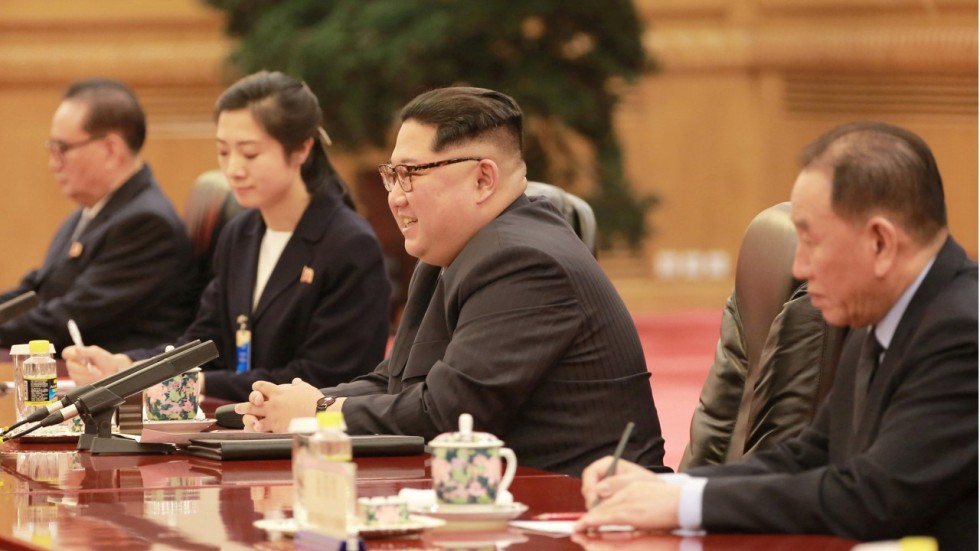 North Korean leader Kim Jong-un said during his visit to China that he wanted to "meet President Xi Jinping often", as the traditional allies pledged to reset their relationship after years of setbacks.
The two sides vowed to hold "frequent high-level exchanges" and strengthen communications at all levels, China's foreign ministry said in a statement.
The visit was Kim's first outside North Korea since he came to power in 2011. Ties between Beijing and Pyongyang have been stormy in recent years.
According to a report by the Korean Central News Agency, Kim said he and Xi should meet more frequently to consolidate the two nations' relationship, and that he had extended an invitation to Xi to visit North Korea.
Stressing their shared past, Xi said a strong relationship between the two countries was "a strategic choice and the only right choice for the sides to make based on history and reality".
"This should not and will not change because of any single event at a particular time," Xi said, without referring to any specific incidents.
Kim and Xi share wine and smiles during North Korean leader's landmark visit
Relations between China and North Korea had been on a downward trend before the leaders' meeting, with Pyongyang conducting a nuclear test during an important event in China last year and a lack of high-level exchanges.
Xi said Kim's visit came at a "critical moment" and was "very significant" to the development of relations between the two nations.
Although the foreign ministry described Kim's visit as informal, he was afforded all of the honours bestowed on state leaders, including a formal welcoming ceremony, a review of troops at the Great Hall of the People and a banquet after the leaders' talks.
China's Premier Li Keqiang, Vice-President Wang Qishan and Politburo Standing Committee member Wang Huning also met the North Korean leader.
During his short stay in the country, Kim visited the Chinese Academy of Sciences, where he watched presentations on nuclear physics, space, energy and agricultural technology.
Kim Jong-un says he is 'committed to Korean denuclearisation' in Beijing talks
North Korean state television broadcast a 30-minute programme about Kim's visit in a sign of how highly Pyongyang regards the country's relationship with China.
Analysts said the meeting of the two leaders also provided clear evidence of the nations' alliance ahead of Kim's planned summit with US President Donald Trump.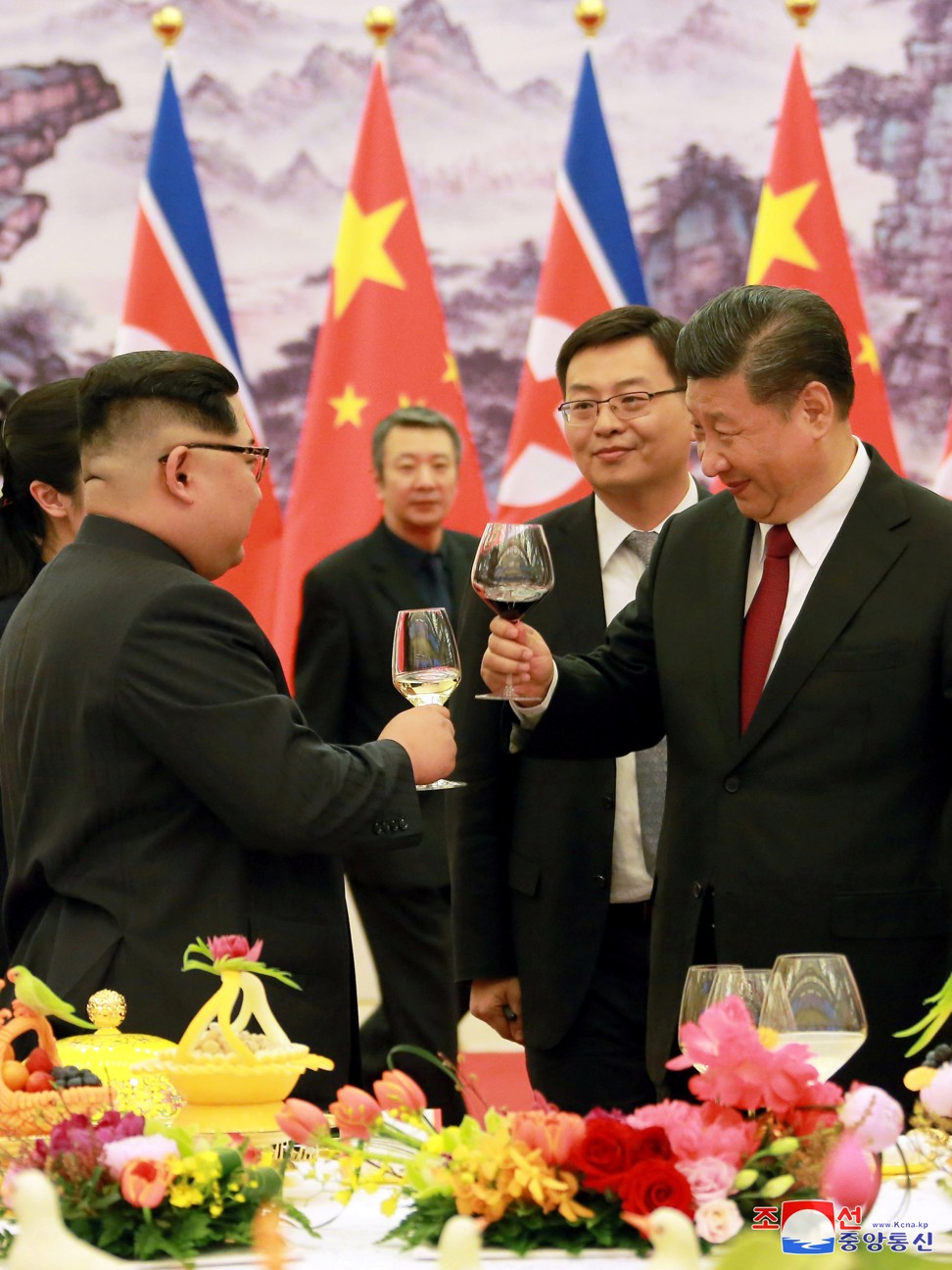 In a tweet on Wednesday, Trump said he had received a message from Xi that the meeting with Kim had gone well and that Kim was looking forward to meeting him. Trump added, however, that it was essential to maintain both sanctions and political pressure on Pyongyang.
Kim Jong-un's wife becomes an instant hit in China
Boo Seung-chan, a research fellow at Yonsei Institute of North Korean Studies in Seoul, said Kim might have been seeking reassurance from China ahead of his talks with Trump, at which he is expected to raise the issue of US troops in South Korea.
"Kim knows that the US and South Korea would never agree to the withdrawal of US troops, so he may take the dovish line of changing the nature of US troops, so they no longer target the North," he said. "He wants his ally, China, to be part of the assurance deal so as to ensure his regime's survival."
In the years since Kim succeeded his father, Kim Jong-il, the relationship between China and North Korea has deteriorated. Pyongyang's repeated missile launches and nuclear tests, as well as Beijing's endorsement of United Nations Security Council resolutions against the regime, including a ban on North Korean exports, have done little to help the situation.
One of Pyongyang's nuclear tests was conducted on September 3 last year as China was hosting an emerging markets summit – a move critics said embarrassed Beijing.
Why Xi Jinping agreed to meet Kim Jong-un in Beijing
North Korea has also repeatedly criticised China for siding with the United States, and warned Beijing to stop the "dangerous move of collapsing the pillar of North Korea-China relations".
Although Xi has never visited North Korea, when Song Tao, the head of the Communist Party's International Liaison Department travelled to Pyongyang in November, Kim did not meet him.
The statements released by the two nations on Wednesday made no mention of their disputes, but did declare their mutual commitment to the denuclearisation of the Korean peninsula.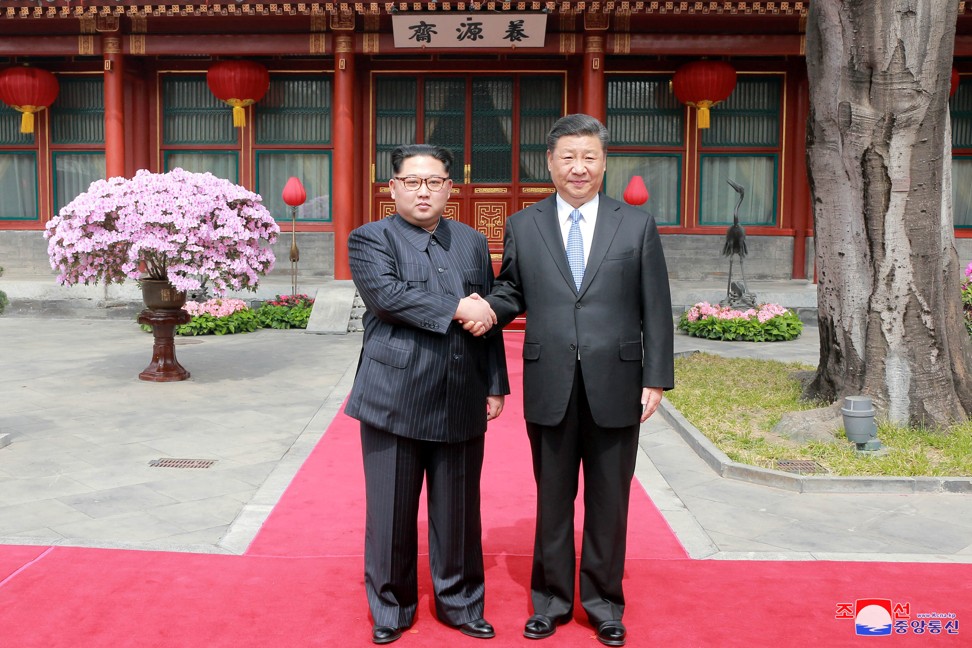 As well as proposing more frequent high-level visits, Xi suggested the two sides enhance communications on key strategic issues, promote regional peace and strengthen exchanges between ordinary people.
Zhang Baohui, a security analyst at Lingnan University in Hong Kong, said Kim's trip was a significant move by both sides to repair damaged ties.
For China, having an ally on the Korean peninsula provided an essential counterbalance to the United States' relationship with South Korea, he said.
Why a mystery armoured train could hold the key to Kim Jong-un's rumoured visit to China
Nick Bisley, an international relations professor at La Trobe University in Australia, said the trip was a sign that the gap between North Korea and China had closed.
"North Korea and China are back – it's like the old days, that whole lips and teeth image," he said, referring to a quote by the late Chinese leader Mao Zedong.
"Whether it's true or not, "the messaging is pretty clear," he said.
Tong Zhao, a fellow at Carnegie Endowment for International Peace, a Washington-based think tank, said it was also important for North Korea to maintain its relationship with China ahead of Kim's talks with Trump.
"If North Korea has a strong relationship with China, it will be hard for the US to consider military action against North Korea or increase its economic sanctions without China's support," he said.
Additional reporting by Sarah Zheng and Jeongho Lee
http://www.scmp.com/news/china/diplomacy-defence/article/2139342/chinese-president-xi-jinping-north-korean-leader-kim
This article appeared in the South China Morning Post print edition as: 
Xi, Kim press reset button on ties
.
*************************************
 .
Kim Jong-un's China Visit Strengthens His Hand in Nuclear Talks
The New York Times
BEIJING — With a dose of mystery and the flair of a showman, North Korea's young leader, Kim Jong-un, used his debut as an international statesman on Wednesday to present himself as confident, reasonable — and willing to bargain.
Mr. Kim's surprise two-day visit to Beijing, his first known trip abroad since taking power, was effectively a reminder of how much he has set the agenda in the crisis over his nation's nuclear arsenal — and of what a strong hand he has going into talks, first with President Moon Jae-in of South Korea next month and later with President Trump.
Mr. Kim has yet to say what concessions he is willing to make, or what he may demand from the United States in return. But he continued to dominate the diplomatic process, reaffirming his willingness to meet with Mr. Trump and repeating his vague commitment to the denuclearization of the Korean Peninsula in talks with President Xi Jinping of China, according to Xinhua, the Chinese state news agency.
During Mr. Trump's first year in office, Mr. Kim raced ahead with breakthrough tests of missiles capable of hitting the United States mainland and what he claimed was a missile-ready hydrogen bomb. Then he abruptly changed course and used the Winter Olympics to seize the initiative, surprising the world with a rapprochement with the South and then an offer to meet with Mr. Trump.
Through it all, the Trump administration has been largely relegated to reacting and catching up to Mr. Kim. And so it was again this week, when Mr. Kim suddenly showed up in China on an armored train and was shown beaming next to Mr. Xi, whose cooperation has been critical to Mr. Trump's strategy of "maximum pressure" on the North. The state media in China and North Korea announced the meeting on Wednesday, after two days of secrecy.
In images and in words, Mr. Kim and Mr. Xi signaled that they had repaired the relationship between their countries, which had soured as Mr. Kim had accelerated his nuclear program and Mr. Xi had responded by endorsing — and enforcing — more punishing sanctions proposed by the United States.
"The friendship between North Korea and China that was personally created and nurtured together by former generations of leaders from both our sides is unshakable," Mr. Kim told Mr. Xi, according to Xinhua. Mr. Xi went out of his way to recall the warm friendship between his father, a high-ranking Communist Party official from the Mao era, and Mr. Kim's father, Kim Jong-il, the North's previous leader.
It is too soon to say whether the meeting marks a softening of China's posture toward Mr. Kim or of its commitment to international sanctions against North Korea. But the visit served to highlight Beijing's unique leverage over North Korea, even as Mr. Trump is threatening China with a trade war.
Mr. Trump can talk about maintaining "maximum pressure" on the North, but ultimately China — the North's main trade partner — still decides what that means, because it can choose how strictly to enforce sanctions.
"China is saying to the United States and the rest of the world: Anyone who wants a deal on anything on the future of the Korean Peninsula, and certainly something which deals with nukes, don't think you can walk around us, guys," Kevin Rudd, a former Australian prime minister who is on good terms with the Chinese leadership, said in Hong Kong on Wednesday.
Bruce Klingner, a former Korea analyst at the C.I.A. who is now at the Heritage Foundation in Washington, said China had been bypassed by the diplomatic outreach that resulted in Mr. Trump's agreement to meet with Mr. Kim. "Beijing has been on the sidelines of North Korea's recent charm offensive and likely saw it necessary to finally invite Kim for a summit to get a readout of the upcoming diplomatic meetings and to be seen as a major player," he said.
The Chinese government said it had briefed the White House on Mr. Kim's visit, adding that Mr. Xi had sent a personal message to Mr. Trump.
Read the rest:
NYT:https://www.nytimes.com/2018/03/28/world/asia/china-kim-north-korea-visit.html?hpw&rref=world&action=click&pgtype=Homepage&module=well-region&region=bottom-well&WT.nav=bottom-well