ON Tuesday, over two dozen Pashtun Tahaffuz Movement activists were arrested by the police in Islamabad while gathered to protest the death of Arman Loni.
For over 24 hours, the whereabouts of one detainee, prominent rights activist Gulalai Ismail, was unknown to her family and legal counsel. A written order for her arrest was never produced, and under what charges the remaining activists are being detained is still unclear.
Editorial
Dawn
February 9, 2019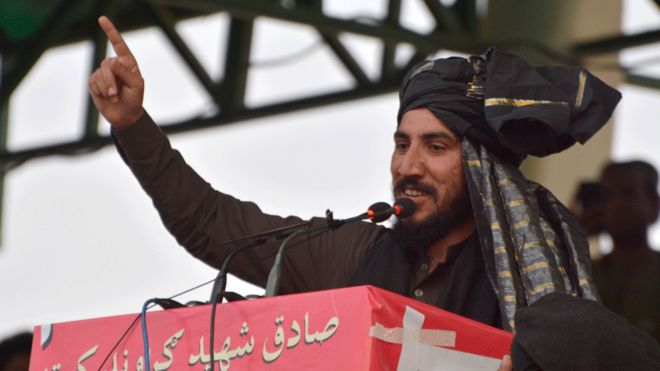 That Ms Ismail was eventually freed has much to do with the intervention of Prime Minister Imran Khan and Human Rights Minister Shireen Mazari. However, for the government to truly disown this gross violation of civil liberties, it must not only insist on due process but demand that the police reveal under whose — if not the government's — orders this crackdown was sanctioned.
The government's legitimacy depends on its ability to take such unconstitutional adventurism to task. Citizens cannot be arbitrarily harassed and held in captivity by the state, nor can the latter's institutions be unaccountable to the people and their elected representatives.
In this regard, opposition parties must also account for their craven silence when the fundamental rights of others are trampled on, particularly while lamenting their own victimisation. Speaking out in defence of the marginalised and vulnerable should never be contingent on political, commercial or personal expediency, but the primary responsibility of every agent of democracy.
Moreover, that this large-scale, highly visible police action could happen in the federal capital — in front of the National Press Club no less, where scores of media persons had already converged — without getting any TV channel coverage speaks volumes.
Indirect restrictions on the press notwithstanding, it demonstrates the extent to which broadcast media has allowed itself to abdicate its duty to inform the public of the unfettered, unvarnished truth. The truth so far: neither the press nor the public has been provided with any material evidence to support veiled and explicit claims that the PTM is anything other than an ethnic nationalist alliance non-violently demanding its constitutionally guaranteed rights — a phenomenon hardly novel to this country.
Those in violation of the law must be charged accordingly; however, mass round-ups and sweeping indictments of sedition and terrorism, if history is any guide, only serve to further polarise and destabilise national cohesion. Unity cannot be sustained by force but, as Dr Mazari has herself stated, by embracing diversity and dissent.
Published in Dawn, February 9th, 2019
SSN
See also:
Manzoor Pashteen: The young tribesman rattling Pakistan's army
https://www.bbc.com/news/world-asia-43827660