Close friends of Russian President may hold wealth on his behalf, report claims
The Independent
October 26, 2017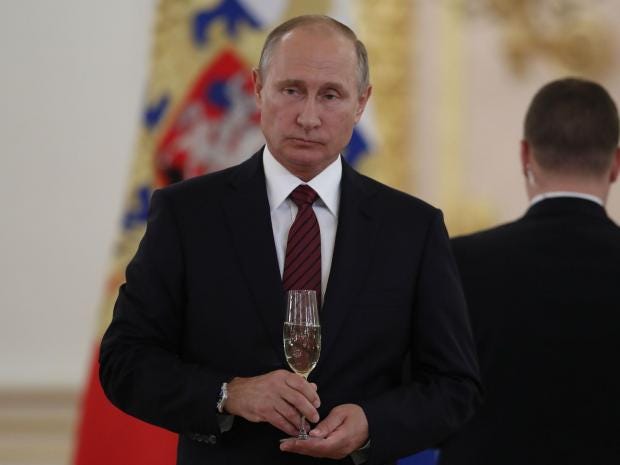 The combined wealth of Russian President Vladimir Putin's inner circle stands at nearly $24bn (£18bn) a new investigation has claimed.
In 2016, Mr Putin's official income was was reported at just $133,000 and he has repeatedly denied he is one of the world's wealthiest men.
But a joint investigation by Russian newspaper Novaya Gazeta and Organized Crime and Corruption Reporting Project (OCCRP), has valued him at considerably more, although it suggested that his wealth may be tied up in a series of "proxies".
Some of the President's inner ring have "no obvious explanation for their hidden wealth", according to the report.
"These proxies' wealth may be accounted for by the simplest explanation: It may really be Putin's money. But in Russia, nothing is simple," the authors wrote.
One alleged "proxy" is Mikhail Shelomov, a relative of Mr Putin, who works at a Russian shipping company for a job which would usually pay around $8,500 a year.
Mr Shelomov is a major investor in a new race track near St Petersburg, and has a personal wealth of $573m according to OCCRP, as well as links to the state energy giant Gazprom.
A childhood friend of the President, Pyotr Kolbin, a former butcher, has amassed a personal fortune of $550m – despite telling the Russian press he is "not a businessman".
William Browder, a US-born anti-Putin campaigner, told OCCRP Mr Shelomov, Mr Kolbin and other cronies were "nominees" who formally own assets, while really holding them in trust for Putin. While Mr Kolbin has been sanctioned by the United States, Mr Shelomov, who keeps such a low profile the OCRUP could not find any photograph of him, has so far escaped the penalties.
The investigation has not been widely reported in Russia, which is currently ranked 148 out of 180 countries on Reporters Without Borders' Press Freedom Index.
http://www.independent.co.uk/news/world/europe/vladimir-putin-wealth-russia-president-investigation-24-billion-novaya-gazeta-a8019971.html
Not too long ago this issue was a big story in China:
China's President Shows Up in the Panama Papers. This could be a Big Deal
Former Chinese President's Top Aide to Face Corruption Trial — When Will Wen Jiabao Go To Trial?
Former Chinese premier Wen Jiabao says his family amassed huge wealth — New York Times Reporter Chris Buckley "Expelled"
Bloomberg: Wen Jiabao Family Linked to Billions in Assets, NYT Reports
Family of Communist China's Premier has massive wealth: NYT report
China reporter Chen Yongzhou 'confesses on TV'
China's Communist Party Exposed — No Transparency and No Real Rule of Law
Related:
.
.
.
.