The Pentagon's withdrawal of the invitation was 'an initial response' to what it called China's continued militarisation of the South China Sea
South China Morning Post
Thursday, 24 May, 2018, 6:15am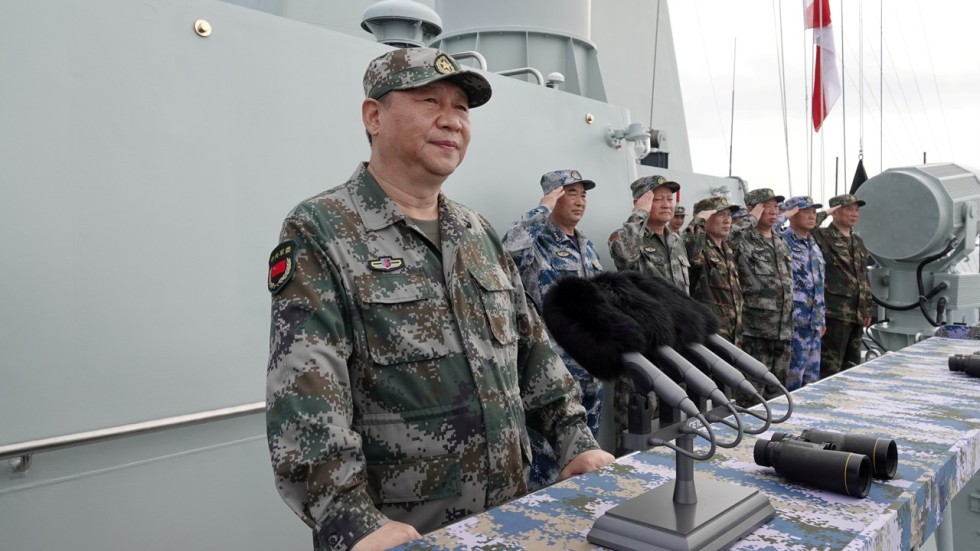 China's top diplomat denounced a rebuke by the US military while in Washington, the latest test of a bilateral relationship already damaged by recriminations on the economic front.
The US military said it had disinvited China from a multinational military exercise to be held this summer in the Pacific as "an initial response" to what it called "China's continued militarisation of the South China Sea".
News of the withdrawn invitation, which broke shortly before China's Foreign Minister Wang Yi met with US Secretary of State Mike Pompeo, prompted Wang to accuse the US of having a "negative mindset".
During the Obama administration, China repeadedly promised not to militarize the South China Sea. Then U.S. Secretary of State John Kerry with China's Wang Yi.
"China's continued militarisation of disputed features in the South China Sea only serves to raise tensions and destabilise the region," Lieutenant Colonel Christopher Logan, a spokesman at the US Defence Department, said in a statement explaining the withdrawal of China's invitation to the 2018 Rim of the Pacific naval drills.
US threatens Beijing with 'consequences' for 'militarising South China Sea'
"China's behaviour is inconsistent with the principles and purposes of the Rim of the Pacific exercises."
The US's move comes just days after the People's Liberation Army (PLA) Air Force disclosed that its highly advanced H-6K strategic bomber landed for the first time on an island reef in the South China Sea, which the US Defence Department immediately denounced.
China angers US by landing bombers on South China Sea reef
The inclusion of China in the Pacific naval drills was "designed to help with misunderstandings and to build upon cooperation, which was supposed to help deal with the most contentious issues", said Oriana Skylar Mastro, assistant professor of security studies at Georgetown University and the Jeane Kirkpatrick Scholar at the American Enterprise Institute.
"The logic behind these military exchanges has weakened," Mastro said in an interview with the South China Morning Post.
"The US position was that through engagement, China would come to understand that they were better off when the US is in charge," she said. "I thought that was naive from the very beginning, but now I think many areas of the US government are coming to that conclusion."
In its statement, the Pentagon said the US had "strong evidence that China has deployed anti-ship missiles, surface-to-air missile systems and electronic jammers to contested features in the Spratly Islands (Nansha in Mandarin) region of the South China Sea".
"China's landing of bomber aircraft at Woody Island (Yongxing in Mandarin) has also raised tensions," the statement said.
Speaking in a joint press conference with Pompeo, Wang said: "We find the Pentagon's decision today of dis-invitation a very non-constructive move. It is also a decision that's taken lightly. It's unhelpful to the mutual understanding between China and the US."
Pompeo said in the briefing that he had raised the US "concern" about China's activities in the South China Sea with Wang, and that he would leave decisions about international military exercises up to the Defence Department.
China 'installs cruise missiles on South China Sea outposts'
Hong Kong-based military observer Song Zhongping said that China's landing of the H-6K bomber on Woody Island was aimed at strengthening China's military presence in the region after US B-52 bombers flew there during a so-called routine training mission in April, flights described by Beijing as a "provocative move".
The US has called on China to remove the military systems immediately and reverse course on the militarisation of disputed South China Sea features, the Pentagon said.
China is "using techniques and tools below the threshold of armed conflict as a way to coerce the behaviour of other countries and ultimately be able to establish its claims [in the South China Sea], whether or not they are consistent with international law", Evan Medeiros, the managing director of Asia at the Eurasia Group, said this week in a panel discussion organised by the National Committee on US-China Relations.
"That has generated a lot of reaction on the part of America and East Asia and it's intensified the security dilemma," said Medeiros, who served as special assistant to former president Barack Obama and as an Obama-era senior director for Asian affairs at the White House's National Security Council (NSC).
"While I've often thought the US-China security relationship was best characterised as a low-intensity security dilemma, I think it's inevitable that it's moving into a period of high-intensity security dilemma and that's only going to increase in the next five to 10 years," he said.
US bombers carry out drills 'in vicinity' of South China Sea
The PLA Navy had been invited in May 2017 to take part in this year's Rim of the Pacific exercises. The world's largest international naval exercise, it is held biennially in the summer months of even-numbered years in the waters around the Hawaiian islands and southern California.
Twenty-six nations originally were to participate in the drill, which usually lasts a couple of weeks. China has taken part twice. In 2016, its navy dispatched five ships and 1,200 personnel to the exercises.
Earlier this month, the White House had said it was prepared to take measures against the militarisation of the South China Sea, after Beijing reportedly installed new missiles on outposts in the Spratlys, which are also claimed by Vietnam and the Philippines.
.
In this undated file photo released by Xinhua News Agency, a Chinese H-6K bomber patrols the islands and reefs in the South China Sea. The China Daily newspaper reported Saturday, May 19, 2018 that People's Liberation Army Air Force conducted takeoff and landing training with the H-6K bomber in the South China Sea.
Liu Rui/Xinhua via AP, File
"We're well aware of China's militarisation of the South China Sea," White House spokeswoman Sarah Huckabee Sanders said at the time. "We've raised concerns directly with the Chinese about this, and there will be near-term and long-term consequences."
US network CNBC had reported that the Chinese military had installed anti-ship and air-to-air defences on the islands, citing sources close to US intelligence.
US defence official accuses China of 'predatory economic activities'
China's foreign ministry spokeswoman Hua Chunying would neither confirm nor deny the deployment.
"China's peaceful construction in the Spratly archipelago, including the deployment of necessary national defence facilities, is aimed at protecting China's sovereignty and security," she said. "Those who don't intend to violate [this sovereignty] have no reason to worry."
The US Navy itself frequently sends warships and aircraft carriers to patrol the area.
"China has to realise that they've benefited from the free navigation of the sea, and the US Navy has been the guarantor of that," Pentagon spokeswoman Dana White said. "We will continue to do our operations. "
Washington and Beijing are already engaged in high-level dialogues to resolve disputes over a record trade deficit China has with the US, restrictions that foreign companies in the country face in terms of market access, and forced transfers of technology to Chinese companies.
A second round of negotiations between the two countries' top economic advisers last week helped stave off an all-out, bilateral trade war.
Meanwhile, US lawmakers are pushing legislation that would tighten scrutiny over Chinese acquisitions of US companies, citing concerns that such activity is undermining America's national security.
http://www.scmp.com/news/china/policies-politics/article/2147482/us-disinvites-china-pacific-rim-military-exercise
Related:
US: We have strong evidence China deployed missiles, bombers in Spratlys near the Philippines
Russia to deliver 10 Su-35 fighter jets to China this year
China admits military exercises intended to threaten Taiwan — "It is a strong warning to Taiwan independence separatist forces"
Philippines: President Duterte "destabilizing himself," with China remarks — "Duterte's statement betrays his paranoia about the state of affairs in his own country."
China says it has sovereignty over all the South China Sea north of its "nine dash line." On July 12, 2016, the Permanent Court of Arbitration  in The Hague said this claim by China was not valid. But China and the Philippine government then chose to ignore international law.
China carries out aircraft carrier drills in Pacific in attempts to intimidate Tawain, and perhaps the U.S.
South China Sea: China Deploys Military Aircraft to Philippine-Claimed Mischief Reef — "This fits a steady pattern of escalation."
US concerned over China moves to alter 'status quo' near Taiwan
America Can't Afford to Cede the Seas
Philippines: A creeping Chinese invasion?
US should put the brakes on China's expansion into South China Sea
.
The Philippines says it "owns" Mischief Reef, but there is not one known Filipinos living there. China has militarized the South China Sea — even though they have no legal claim. This is Mischief Reef, now an extensive Chinese military base — one of seven Chinese military bases near the Philippines
.