The National Post
From Reports by Bloomberg and The Washington Post
May 25, 2017
Handout/AFP/Getty Images
This handout photo taken in May by the U.S. Navy shows the Arleigh Burke-class guided-missile destroyer USS Dewey preparing for a replenishment-at-sea with the Henry J. Kaiser-class fleet replenishment oiler USNS Pecos in the South China Sea. The US warship USS Dewey sailed near a reef claimed by Beijing in the South China Sea on May 25, 2017, a US official said, the first such operation by US President Donald Trump's administration in the disputed waterway. Beijing again denounced the move Thursday.
China's government warned a U.S. warship to leave waters around a reef it claims in the South China Sea, saying the vessel was trespassing on its territory and undermining security in the region.
The U.S. warship entered waters adjacent to the Spratly islands, an area where China has "indisputable sovereignty," defense ministry spokesman Ren Guoqiang said at a briefing in Beijing on Thursday. China "identified, tracked, verified and warned off the ship."
The so-called freedom of navigation operation in the South China Sea was the first under President Donald Trump. The guided-missile destroyer USS Dewey made the patrol on Wednesday near Mischief Reef, where China has built an artificial outpost equipped with an airfield, the Wall Street Journal reported.
China claims most of the South China Sea, one of the world's busiest shipping routes. In recent years it has increased its military presence in the waters by reclaiming thousands of acres of land to build artificial outposts on reefs.
The Chinese military is resolutely opposed to U.S. behaviour which boosts regional militarization and makes accidents more likely
"The Chinese military is resolutely opposed to U.S. behaviour which boosts regional militarization and makes accidents more likely," Ren said. "China has already made solemn representations to the U.S. side."
The U.S.'s move was aimed at signaling to China that it intends to keep critical sea lanes open, according to the Journal. The U.S. carries out freedom of navigation operations by sending navy ships and aircraft near disputed territory to demonstrate the right to fly and sail through what it considers to be international waters and airspace.
President Donald Trump's administration, keen to get China's help containing North Korea's nuclear ambitions, had reportedly earlier declined to conduct freedom of navigation operations despite requests by U.S. Pacific Command.
The Defense Department declined to comment on the Wall Street Journal report, with spokesman Jamie Davis saying only that "U.S. forces operate in the Asia-Pacific region on a daily basis, including in the South China Sea." The U.S. will continue its regular freedom of navigation operations, and summaries of these would be released in its annual report "and not sooner," Davis said in a statement.
"It appears that U.S. decision makers sought to be responsive to calls for continued FON operations following reports that none had been conducted this year," Graham Webster, a senior fellow at Yale Law School's China Center, wrote in an email. "By saying the government will not make further operations public before the annual report, they may seek to avoid the persistent public calls for public FON operations."
Ren also emphasized that U.S.-China ties were in a critical period and that a stable relationship was in the interests of both sides.
http://news.nationalpost.com/news/world/china-warns-u-s-to-remove-warship-from-south-china-sea-claims-america-is-trespassing-on-its-territory
Related:
Philippines: A look into Duterte's reasons for martial law in Mindanao
Challenging China, US launches first South China Sea operation under Trump
In first under Trump, U.S. warship challenges Beijing's claims in South China Sea
US warship sails near South China Sea reef claimed by Beijing
China's Xi Says Navy Should Become World Class
Xi Jinping's War Threat To The Philippines: China Shows It Will Dominate the Philippines to Get Whatever It Wants
Journalists in the Philippines Remind Us of Their Constitutionally Guaranteed Right to Hold Leaders to Account: "Consent of the governed depends on the limits placed on the government."
Philippines' Duterte mulls imposing martial law nationwide — "Martial law of Mr Marcos was very good," Duterte said — (The most lawless nation in Asia goes one step beyond…)
Philippine President Duterte Is Against Martial Law — So Why Does He Keep Bringing it Up?
Common interest of Singapore and China greater than any difference of views: DPM Teo Chee Hean
South China Sea: Vietnam and Indonesia Battle Over Fish; Both sides have "hostages" to exchange — One Vietnamese boat sunk
South China Sea: Who Gets The Ocean's Wealth? (Smart money is on China right now)
President Duterte Once called The Philippine Police "Corrupt To The Core" — When will it get better? — Maybe When China Takes Over
China's President Xi Jinping Wasn't Trying to Bully the Philippines When He Threatened War — Philippine Foreign Secretary Says — "Better Ask Vietnam" Expert Says
South China Sea: China's Real Choice to The Philippines: Ignore International Law, Or Face War — Is This How The One Belt One Road System Will Be Built? On Coercion?
Duterte: China warned the Philippines of war over South China Sea
"Marriage Built on Coercion"– Philippine President Rodrigo Duterte says Xi Jinping warned of war in the South China Sea if the Philippines tried to enforce an arbitration ruling and drilled for oil
South China Sea: Japan, New Zealand Support International Law, Arbitral Ruling, Angering China
Duterte Agitated About Hitler Comparison — "There are three million drug addicts [in the Philippines]. I'd be happy to slaughter them."
Philippine President Duterte called 'serial killer president' by European newspaper — Philippine Catholic Church leaders weigh in — China will welcome Duterte ("They Like His Style" — "He's not afraid to kill his own people")
Philippine Lawmakers Want To Drill For Oil In The South China Sea — A Move Likely To Anger China, Upset President Duterte — Some say "skirt the issue of sovereignty"
Duterte goes soft on Chinese 'harassment' of Filipino fishermen
China's Overfishing is Killing The Global Fishing Industry, Depleting our World's Oceans
South China Sea: Beijing Won't Allow Another Duterte Flip-Flop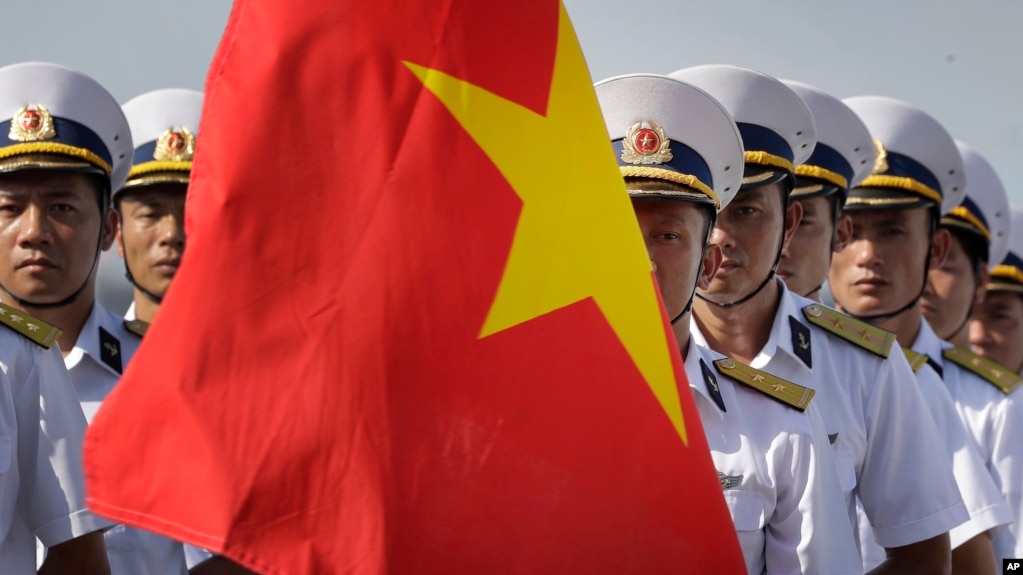 U.S. delivers patrol boats to Vietnam — Cooperation in maritime law enforcement and humanitarian assistance between U.S. and Vietnam
Vietnam Takes Asia Lead in Figuring Out Trump Policy on South China Sea
China's Threat Of War Against Philippines Is Baseless Scare Tactic — Deception, coercion, intimidation, lies and threats are to be expected. As they say in Vietnam, "This is just China." (Contains links to several earlier related stories)
China's Leader Offers Billions for New Silk Road Initiative
Vietnam, China and the New Silk Road
China's Quest for The South China Sea is About Entitlement
Philippines: We will not give up our South China Sea claims despite China "Belt and Road" participation
China's Overfishing is Killing The Global Fishing Industry, Depleting our World's Oceans
Philippine minister starts damage control after Duterte's China war remark — "Now we are on the 'One Belt, One Road,' and can't get off?"
China's Belt and Road to Nowhere — Can anyone just say no? — Cutting through China's propaganda
Philippine President Duterte Skips China's Belt and Road Forum opening ceremony
Philippine Love Affair With China — Kowtowing to China Could End in Drowning in Sorrows
China's take-over of the South China Sea is complete; One Belt One Road project within reach
For about five years China has been loudly proclaiming "indisputable sovereignty over the South China Sea." China has said, everything north of the "nine dash line" shown here, essentially, belongs to China.  On July 12, 2016, the Permanent Court of Arbitration in The Hague said this claim by China was not valid. But China chose to ignore international law.