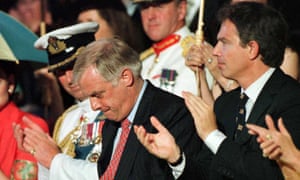 An emotional Chris Patten is applauded by Prince Charles and Tony Blair after speaking at the ceremony to hand Hong Kong back to China in 1997. Photograph: POOL/REUTERS
.
Chinese president Xi Jinping must strive to calm the "hearts and minds" of Hong Kong's seven million citizens during the upcoming commemorations of the 20th anniversary of handover, the territory's last British governor has said.
On 1 July it will be two decades since the former colony reverted to Chinese control under the "one country, two systems" formula, which guaranteed it far greater freedoms than the authoritarian mainland.
The anniversary, which pro-democracy campaigners are vowing to mark with street protests, is also expected to see Xi make his first trip to the territory since becoming China's top leader in 2012.
Amid continuing disquiet over Beijing's dilution of Hong Kong's social and political freedoms, Lord Patten urged Xi to use the visit to reiterate his administration's commitment to the 1984 Sino-British joint declaration, the accord that paved the way for handover, in 1997.
Under the agreement China pledged to leave Hong Kong's social and economic systems and lifestyle "unchanged" for 50 years.
"I hope he takes the opportunity to reassure people in Hong Kong that China still stands four-square behind what it promised back in 1984 and 1985 and later and that he, like Deng Xiaoping, believes that people in Hong Kong are perfectly capable of running their own affairs," Patten told a US congressional hearing about the political situation 20 years after handover.
"There was a very important remark that Deng Xiaoping made back in 1984 to set the minds and hearts of people in Hong Kong at rest. I have to say that, though I think there is much good that is still happening in Hong Kong, people's hearts and minds aren't exactly at rest at the moment."
Twenty years after he sailed out of Hong Kong on the Royal Yacht Britannia, Patten, who is now chancellor of the University of Oxford, admitted doomsday predictions about post-handover Hong Kong had not come to pass.
"[Some] thought for example that even I would be leaving in a helicopter from the ballroom roof in government house and that sooner or later there would be violence in Hong Kong."
Read the rest:
https://www.theguardian.com/world/2017/may/04/xi-jinping-must-calm-hearts-and-minds-of-hong-kong-says-patten