Foreign minister 'not optimistic' about standoff with U.S.

North Korea says UN delegation agreed on regular communication
China expressed pessimism about bringing the North Korean standoff to a peaceful resolution, even as Kim Jong Un's regime touted new United Nations support for "regular" talks.
Chinese Foreign Minster Wang Yi said Saturday that "the outlook is not optimistic" on the Korean Peninsula and urged both sides to end what he said was a "vicious cycle" of confrontation. Wang's remarks — part of a broad foreign policy speech in Beijing — came hours after North Korea said that a departing UN delegation had agreed to communications to help ease tensions.
China's Foreign Minister Wang Yi
Wang said there was still hope for a diplomatic solution and reiterated a Chinese proposal for both sides to build trust by suspending military drills and weapons tests. "The first step to pull the situation on the peninsula out of the current 'black hole' of confrontation is to create the conditions and atmosphere to restart dialogue," Wang said.
The UN's top official for political affairs, Undersecretary General Jeffrey Feltman, left North Korea on Saturday after a visit that sought to ease tensions over the country's nuclear weapons program. The U.S. sent B-1B bombers to join massive aerial drills with South Korea after Kim tested a new type of intercontinental ballistic missile that could reach any American city.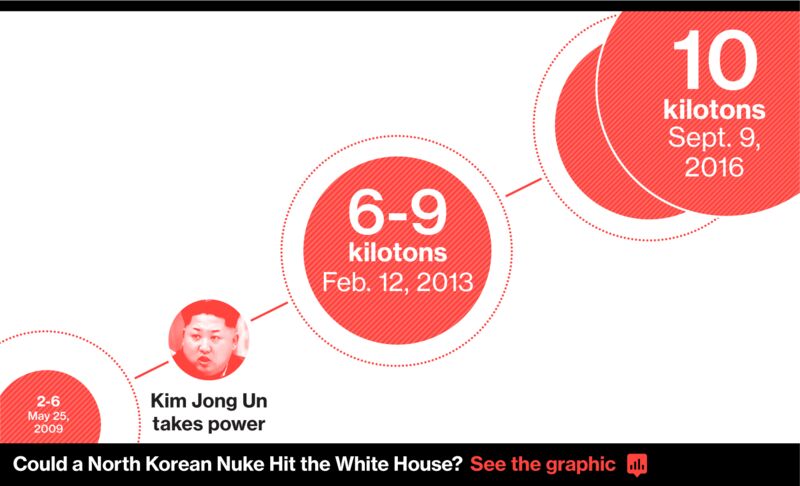 The UN visit was part of a flurry of efforts involving countries from Canada to Germany to help facilitate talks between Kim's regime and U.S. President Donald Trump. North Korea's state-run Korean Central News Agency said Saturday that the visit contributed to a deeper understanding and that they agreed to communicate at "various levels."
"The UN secretariat's side expressed its readiness to make a contribution to the relaxation of the tension on the peninsula under the UN Charter, which stipulates the mission of the UN based on the guarantee of international peace and security," KCNA said in it's English-language report. The report said Feltman paid a "courtesy call" on North Korean Foreign Minister Ri Yong Ho and held talks with a vice minister of foreign affairs.
Stephane Dujarric, a spokesman for UN Secretary General Antonio Guterres, said by email Saturday that the delegation had a "broad policy dialogue" in Pyongyang and that the body might have further comment later.
'Not Meaningful'
"I don't believe this in itself is meaningful," said Shin Beomchul, a professor at Korea National Diplomatic Academy. North Korea wanted to use the UN to gain legitimacy and get the U.S. to the negotiating table and acknowledge it as a nuclear state, he said.
The U.S. has refused to consider negotiations while Kim tests increasingly powerful nuclear bombs and lobs missiles into the sea around Japan. In an interview with Bloomberg on Wednesday, U.S. Ambassador to China Terry Branstad said that the Trump administration would be ready for talks if North Korea renounced further nuclear or missile tests.
Any UN mediation effort would require approval from the UN Security Council, where the U.S. wields veto power. The Security Council has called for the resumption of the so-called six-party talks, which included China, Japan, Russia and South Korea and broke off in 2009.
North Korea Defies the World With Nuclear Ambitions: QuickTake
Weapons tests by North Korea have prompted the Security Council to pass two sets of sanctions blocking about 90 percent of that nation's reported exports, including coal and seafood, as well as imports of some oil products. The KCNA report said the UN's Feltman acknowledged the negative effect of sanctions and showed an intention to seek cooperation in keeping with body's humanitarian mission.
Trump has sought to pressure China to rein in its ally and neighbor before it acquires a nuclear arsenal advanced enough to deter a U.S. attack. Kim said the test showed that North Korea's nuclear program was complete because it could deliver an atomic warhead anywhere in the U.S.
While Kim hasn't yet proven he has the technology to put a warhead on an ICBM and deliver it safely to a target, the test has put new pressure on the U.S. and its allies to find a solution. By declaring his weapons program complete, Kim may have created a path to resume negotiations from a position of strength.
"North Korea's effort to strengthen relations with the UN is an extension of its announcement it completed its nuclear program last month in that both aim for negotiations with the U.S.," said Yang Moo-jin, a professor at the University of North Korean Studies in Seoul.
Wang, the Chinese foreign minister, said that all avenues must be pursued to avoid conflict.
"Hope for peace has not yet been eliminated," Wang said. "The prospect for negotiations still exists. The choice of using force is absolutely unacceptable."
— With assistance by Kambiz Foroohar, Gareth Allan, and Janet Ong
https://www.bloomberg.com/news/articles/2017-12-09/north-korea-says-un-expressed-willingness-to-ease-korea-tensions
**************************************
Lavrov: U.S. Threats To Withdraw From Iran Nuclear Deal Make North Korea Wary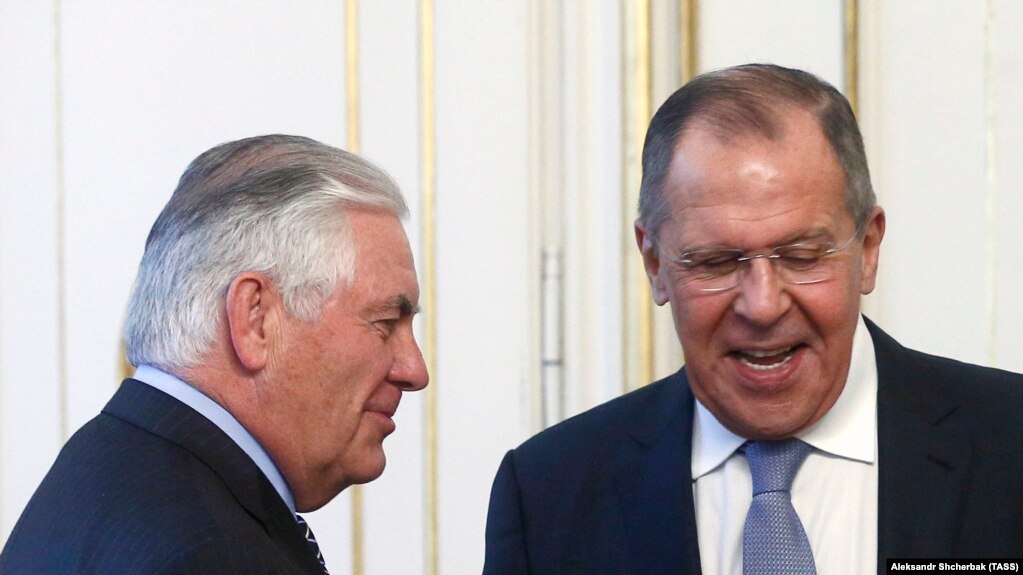 U.S. Secretary of State Rex Tillerson (L) and Russian Foreign Minister Sergei Lavrov
Russian Foreign Minister Sergei Lavrov has said U.S. threats to withdraw from the 2015 nuclear agreement with Iran are hampering efforts to end the nuclear crisis with North Korea.
Lavrov said at a summit in Vienna on December 8 that in his talks with Pyongyang, he's found North Korea is willing to negotiate a de-escalation of the crisis with the United States, but it has doubts about whether Washington will abide by any deal in light of what happened with Iran.
The question is "how to convince North Korea that a deal won't be rejected in a year or two by a new American administration," Lavrov said, according to a translation of his remarks on the sidelines of a meeting of the Organization for Security and Cooperation in Europe.
"North Korea needs security guarantees, especially when Washington is about to withdraw from the Iranian nuclear deal," he said.
With both sides escalating the conflict this year through a series of missile and nuclear tests by North Korea and U.S. and South Korean military drills, Lavrov said, "now, of course, it will be more difficult to create conditions for the resumption of the dialogue."
After a meeting with U.S. Secretary of State Rex Tillerson on December 7, Lavrov had said Moscow was ready to try to mediate talks between Washington and Pyongyang at the same time he accused the United States of contributing to increased tensions.
"We know that North Korea wants foremost to discuss security guarantees with the United States. We're ready to support, to participate in these negotiations," Lavrov said at the time.
"We are convinced of the need to end the vicious cycle of confrontation, carelessness, and provocations."
Based on reporting by AP, AFP, and dpa
https://www.rferl.org/a/lavrov-us-threats-withdraw-iran-nuclear-deal-make-north-korea-wary-negotiating-nuclear-crisis/28906403.html