Chuck Schumer, the Senate Democratic leader, says it's all about health care. Sen. Richard Blumenthal, D-Conn., worries about the impact on the special counsel investigation. And Sen. Kamala Harris, D-Calif., sees an assault that could set women's rights back decades.
There's so much for Democrats to dislike about Brett Kavanaugh, President Donald Trump's Supreme Court pick. And that may be the problem.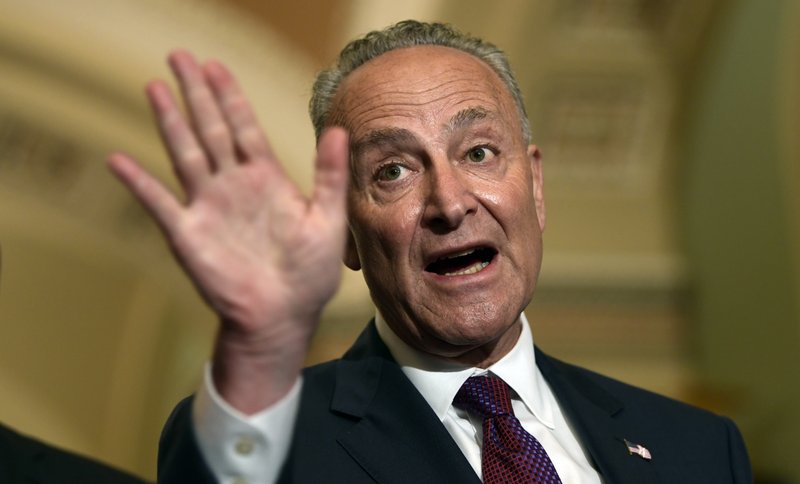 In the hours after the Republican president tapped the conservative jurist, Democrats struggled to unify behind a clear and coherent message to combat the nomination, which could shift the court to the right for decades.
They're energized, outraged and ready to fight. But what, exactly, is their argument to voters?
MoveOn's Washington director Ben Wikler, who was among hundreds of liberal activists protesting outside the Supreme Court, acknowledged Democrats were far from unified behind a simple message to rally voters against Trump's selection.
"The essential message is Roe," Wikler said, citing the potential that a more conservative court would overturn the landmark Roe v. Wade decision that legalized abortion nationwide.
"The secondary message for most folks is ACA and health care," Wikler continued, referring to the Obama-era health care law. "The third messaging plank is, 'choose your own adventure.'"
It's an all-too-familiar political challenge for Democrats, who've left voters confused in the Trump era about what the party stands for beyond simply opposing the president. And in this case, the muddled messaging threatens to dampen a new surge of voter enthusiasm just a few months before midterm elections.
For decades, Supreme Court battles have motivated the GOP's socially conservative base far more than Democrats. But in an era where liberal protests have become nearly weekly events, Democratic strategists and activists say they see a new sense of urgency when it comes to the country's highest court. In part, that's because Kavanaugh's confirmation would give the court a decisive conservative majority for a generation.
"Our phone is ringing off the hook," said Nan Aron, who founded the liberal Alliance for Justice Action Campaign in 1979. "There's much greater engagement because the stakes are so much higher."
Democrats hope to model their opposition on their successful effort fending off a repeal of the Affordable Care Act last year, despite a Republican majority in Congress. But that fight featured a simple, clear argument — save the ACA — and the clear risk that millions of Americans could lose their health care.
The Associated Press