MANILA, Philippines — Poor people are more likely to be killed in the government's anti-illegal drugs campaign because there are more of them involved in selling drugs.
Philippine National Police Director General Ronald Dela Rosa stressed this point on Tuesday in reaction to the a Social Weather Stations survey that found that three of every five Filipinos believe only the poor are killed in drug operations.
"Totoo naman talaga [na] panay mahihirap [ang namamatay]," Dela Rosa told reporters on the sidelines of the signing of a partnership between the PNP and Light Rail Transport Administration.
He added: "You have to understand the dynamics of drug pyramid. 'Yung mayayaman na drug lord, iisa ang drug lord sa taas, pababa 'yan. 'Yung pinakamababa 'yung street-pushing level, puro mahirap 'yun."
According to the SWS survey, 60 percent agreed – 33 percent strongly and 27 percent somewhat agreed – with the statement "rich drug pushers are not killed; only the poor ones are killed".
Of the 1,200 respondents from Metro Manila, Balance Luzon, Visayas and Mindanao, 23 percent disagreed – 12 percent somewhat and 11 percent strongly – while 17 percent were undecided.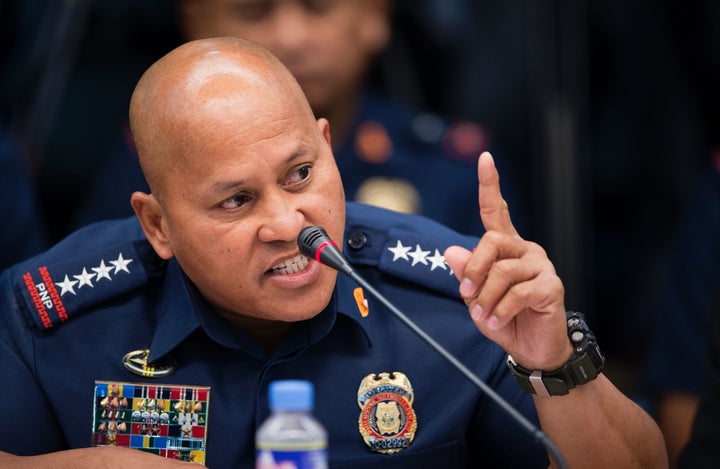 The poll was conducted nationwide from June 23 to 26, using face-to-face interviews of 1,200 adults aged 18 years and above.
Chief Inspector Kimberly Molitas, National Capital Region Police Office spokesperson, echoed Dela Rosa's statement, saying the drug trade is more prevalent in poor areas.
According to the latest statistics released by the PNP, there have been 6,225 drug-related deaths since July 2016.
The PNP said 3,850 have "died in police operations," suggesting these are drug suspects who engaged arresting officers in shootouts.
READ: Bato to drug war critics: You're ingrates
'Big fish are targeted too'
Asked whether the government's drug war only targets poor drug pushers, Dela Rosa responded, "Bakit mahirap ba si Parojinog? Mahirap ba si Espinosa? Hindi naman."
He was referring to the deaths of alleged narco-politicians Ozamiz City Mayor Reynaldo Parojinog Sr., his wife Susan, and Albuera, Leyte Mayor Rolando Espinosa who were killed in police operations. (Note 1)
"Andami nang nakuha. I-cover niyo yung mga nakuha," the police chief told reporters.
The Senate public order committee report said the killing of Espinosa was premeditated and involved abuse of authority.
Last month, P1.3 million worth of illegal drugs were seized during a raid on a condominium in Mandaluyong City.
The suspected dealer, Jovet Atillano, is said to be a major distributor of illegal drugs in Metro Manila, Baguio City, Cebu and Boracay island.
Most of his clients are young professionals and affluent people, authorities said.
Molitas also denied that more operations are conducted in marginalized communities than posh areas.
"Drug operations is regionwide regardless if it's a poor or affluent area," she told Philstar.com.
http://www.philstar.com/headlines/2017/10/03/1745140/more-poor-dead-drug-war-because-most-pushers-are-poor
Note 1:  Leyte Mayor Rolando Espinosa Sr. was killed in a "firefight" after allegedly resisting arrest inside the Baybay, Leyte Sub-Provincial Jail.
Philippine Churches to Ring Bells to Protest Drug Killings — "Expressing anger against evil."
Philippines Cannot Kill Its Way To the End of Illegal Drugs and Addiction
Armed Forces of the Philippines Concerned About Chinese Incursions in Philippine Waters of the South China Sea
Six dead as Philippine militants battle pro-IS splinter group
Philippines: Deadliest week in drug war outrages Catholic bishops
Drug 'personalities' die in Philippines' Big Time show
Philippines 'War' On Illegal Drugs: President Duterte admits he miscalculated — Expect more killings over a longer period of time
Philippine National Police Chief: Deaths in anti-drug ops are "just usual" — "The problem is still there" — "We still need to step up"
Philippines war on drugs intensifies, at least 58 killed this week — Duterte tells police to shoot human rights workers "if they get in the way"
After Philippine Police Kill 32 Drug Suspects in One Day; President Duterte Urges Them To Kill 32 More The Next Day
Amnesty: Indonesia waging its own 'war on drugs'
Indonesia maintains merciless stance on drug dealers
Philippine police kill 32 in drugs war's bloodiest day
Philippine drug war sees 'bloodiest night' of deaths
Philippine mayor linked to drugs killed in raid, police say
Philippine President Rodrigo Duterte's murderous anti-drug campaign featured in Video — "One of the world's most brazen human rights catastrophes."
Philippine President Duterte Promises To Continue War on Drugs — Average of nine alleged drug suspects killed daily in the Philippines
Philippines: After President Duterte's state of the nation speech he threatened to order troops and police to shoot left-wing protesters who commit civil disturbance, "even if I have to bury thousands of Filipinos."
Indonesian President Orders Officers to Shoot Drug Traffickers — Following Lead from the Philippines