President Rodrigo Duterte won't ever win his war on drugs. Not with the way his underlings are doing it.
In one blow prosecutors cleared three of the eight biggest drug lords in Duterte's hit list. Exonerated of narco-trafficking were Kerwin Espinosa, Peter Lim, Peter Co, and 20 of their henchmen.
People closely monitoring the drug issue smelled something fishy.
Prosecutors had things all wrapped up for them. Espinosa had confessed in a televised Senate hearing to narco-trading. Lim had surrendered in 2016 to Duterte no less. Co already is imprisoned for life for kidnapping. The Philippine Drug Enforcement Agency has dossiers on them as the top shabu (meth) producers in the Visayas and Luzon. A solid case would have been built.
Presumably it wasn't rushed. State Prosecutors Michael John Humarang and Aristotle Reyes had ample months to determine probable cause, and Prosecutor General Jorge Catalan Jr. to approve. It would be up for automatic review by Justice Sec. Vitaliano Aguirre, Duterte's legal point man in the drug war. Lawyer-senator Richard Gordon is pessimistic. "(Aguirre) has dismissed too many," he said of cases that the chamber had looked into. Among those was the murder rap against police Supt. Marvin Marcos for killing Kerwin's jailed mayor-father Rolando Espinosa. Also, multiple ones against ex-Customs chief Nicanor Faeldon in connection with the smuggling of 604 kilos of shabu worth P6.5 billion at the Manila port.
The justice department claimed to have no choice but to drop the drug charge. The sole witness Marcelo Adorco was deemed unbelievable. His narratives were inconsistent and defied human nature. He lied about the years of his drug dealings with Lim and Co as Espinosa's trusty. Prosecutors gave credence to Lim's claim to never have been to Bangkok, where Adorco said he and Espinosa met in 2013.
The prosecutors blamed the police investigators for the flimsy case. No circumstantial evidence backed up Adorco's testimony.
What went wrong? Did not the PNP's crack Criminal Investigation and Detection Group handle it? Was it not the CIDG's elite Major Crimes Investigation Unit that processed the evidence? Why the major flaw then?
The dragnet for the Espinosa father and son was well publicized. Gen. Ronald dela Rosa had assigned Chief Insp. Jovie Espenido as police chief of Albuera, Leyte to pin them down. Kerwin fled abroad. Mayor Rolando barricaded himself in his mansion. Espenido's men arrested Adorco in a buy-bust, and slew six Espinosa bodyguards in a gun battle. Raiding Kerwin's adjacent house they found a black book of political and police-military protectors, wads of cash, and other evidence. The older Espinosa turned himself in. The Interpol nabbed Kerwin in Abu Dhabi.
From all that emerged many police reports, eyewitness accounts, and physical evidence. Why did the cops file a case based solely on the story of one suspect-turned-witness?
That the rap was dismissed as far back as Dec. but was disclosed only this week makes it all the more suspicious. Why the secrecy in such a high-profile case?
Many things can happen during mysterious time lags. Espinosa and Co are state witnesses in the drug case against Sen. Leila de Lima. Aside from United Nations and European rights advocates calling for her release, what has happened to that rap? Two of Espinosa's lawyers were assassinated in Aug. 2017 and last month. Has the police identified any suspects? Peter Lim is a compadre (wedding cosponsor) of Duterte, dela Rosa has told the Senate. Despite Duterte's declaration to want to personally kill him, have others begun to treat Lim differently?
All this consequently tell on the credibility of Duterte's drug war. That war started with daily police visits to pusher-addicts' homes to tell them to desist. Two million of them surrendered to barangay halls, but were sent home because there simply are not enough jails, rehab clinics, and soup kitchens to house and feed them. There also were nightly killings of violent resistors in police raids. Local and world leaders took notice of reports that more than 7,000 had been slain within a year, which the PNP corrected as "only" 3,500.
Duterte at first said he would finish the war in six months. Later admitting it wasn't as easy as what he did as mayor of Davao City, he extended his deadline to one, then two years. Now he's saying it would take his entire term.
How can Duterte lick drugs when his men are quick only to eliminate shabu street peddlers but not the billionaire manufacturers? The 604 kilo-P6.5-billion confiscated shabu was only 15 percent of the contraband. Authorities have no clue about the 85 percent, or 3,423 kilos worth P36.8 billion?
Vigilante justice has taken over. With Duterte's men unable to wage drug war properly, assassins are punishing the suspects. Only three days ago one of Espinosa's co-accused henchmen, Max Miro, was slain by motorcycling gunmen. During the hunt for Espinosa, Miro had been caught with three kilos of shabu, but no charges were filed against him for that.
The PNP brags that index crimes like rape, robbery, and theft are down, but that murder is up. As if that is comforting.
Read more at https://www.philstar.com/opinion/2018/03/14/1796440/duterte-wont-ever-defeat-drug-lords#shU7XO3DqP2GQR0o.99
Related:
'Fake drug war': Philippine Senators slam dismissal of raps vs Kerwin Espinosa, Peter Lim — Not Using Rule of Law and Due Process to solve problems
Philippines drops charges against high-profile suspects in drugs trade
Most Philippine People Don't Trust China — Filipinos see a "greedy foreign power" — "a fox disguised in sheep's clothing."
Australia to stress international law in South China Sea dispute
China Backs Close Friend Philippine President Duterte in Dipute With UN Human Rights Boss — Doesn't agree thet Duterte needs psychiatric evaluation — If massive human rights violations meant you were crazy; what would that say about China
Philippine Vice President Says Ousting Chief Justice Maria Lourdes Sereno Could set a "Dangerous Precedent."
Philippine War On Drugs Aimed At President Duterte's Enemies — "Fake war on drugs" — Rule of law is lost — Former solicitor general and lawyer for detained Sen. Leila de Lima says
Philippines drops charges against high-profile suspects in drugs trade
Philippine democracy is "being exterminated under the weight of an authoritarian regime."
Philippine judges, court employees call on top justice to resign
Philippines: Judiciary groups were pressured into calling for Chief Justice Sereno's resignation
Philippine Chief Justice Maria Lourdes Sereno Edges Closer to Impeachment
Philippines: Supreme Court Chief Justice Maria Lourdes Sereno Under Fire; Colleagues say we want to preserve the integrity of SC
Philippines: Senators warn of constitutional crisis — Impeachment of Chief Justice Could Be At An Impasse
Philippines: Lawyer can't recall where he got information for impeachment allegations against Chief Justice
Philippine lawmakers attack rights commission, chief justice (Rule of Law and Human Rights Under Fire on the Path to Dictatorship )
Philippines Commission on Human Rights starts its own investigation of the death of a 13-year old boy who was allegedly shot by a policeman last week
Human Rights Watch: New Philippines Law Giving Philippine National Police Subpoena-Contempt Power is "Troubling"
Philippines Tells UN Its Terror List Not a "Witch Hunt" Against Human Rights Special Rapporteurs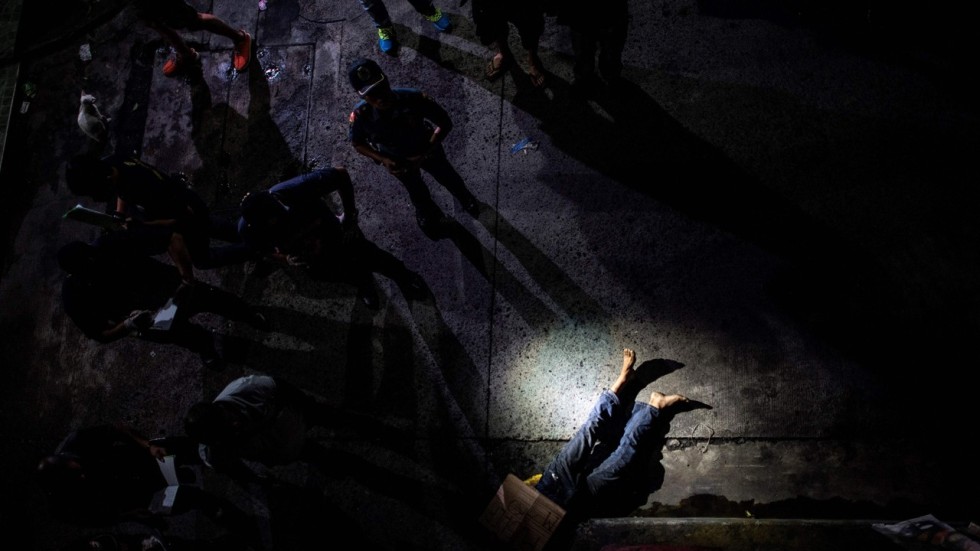 Venezuela's Maduro calls U.N. rights chief a U.S.-backed 'tumor' — Joins Philippines' Duterte in criticism
Philippines: Will Charter Change and Federalism fix the country's pressing problems — If not, why are we wasting so much time on it? — Philippine President Duterte: Federalism will eliminate poverty
China: "Sweeping away undesirables" — "Those that do not promote positive energy are removed"
China police detain artist who documented migrant evictions — China cleans up its society — "Sweeping away undesirables"
Philippines slams UN rights chief for 'disrespectful' remarks about a psychiatric evaluation for Duterte — Is there evidence of a madman?
U.N.'s Zeid says Philippines' Duterte needs psychiatric evaluation
Philippines' Duterte cancels Canada Bell helicopter deal to dodge Canadian human rights review — The man that likened himself to Hitler may be making the Philippines a pariah nation
Philippines Union of Journalists Calls Presidential Spokesperson Harry Roque a "Fake News Peddler"
Canada to conduct human rights review before chopper sale to Philippines
Philippine Government says Human Rights Watch "Misleads the International Community" — "Democracy has never been more alive in the Philippines" — HRW claimed that 12,000 people have been killed since Duterte unleashed his deadly drug war — Phil Govt says "Not That Bad"
Philippine President Duterte Likens Himself To Hitler — Another Head of State Who Said One Group Was Not Human and Then Killed Them — Not Funny and Not Good For The Philippines
.
.
.
.
.
.