Tensions ratchet up after Huawei's Meng arrested in Canada

U.S. alleges Chinese telecom giant violated sanctions on Iran
China's Vice Foreign Minister Le Yucheng has summoned the U.S. Ambassador to China, Terry Branstad, in a protest over the arrest of Huawei Technologies Co. Chief Financial Officer Meng Wanzhou, and said it will take "further action" if needed.
Meng was arrested in Vancouver on Dec. 1 on the orders of U.S. authorities for allegedly violating American sanctions on selling technology to Iran. Canada's ambassador to China was summoned to the ministry on Saturday.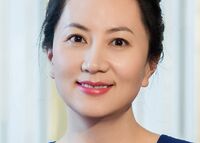 The minister said U.S. actions have violated the "legitimate rights and interests of Chinese citizens and are extremely bad in nature," according to a posting on the ministry website. "China will take further action based on the U.S. actions."
The move comes after a week in which both China and the U.S. seemed to struggle with how to react to an arrest with potentially broad reverberations. The two nations are, at the same time, trying to ratchet back a damaging trade dispute.
It's unclear how much the summons, China's most public display of anger over the arrest, will mark a heightening of tensions over the arrest and Huawei more generally. China regularly calls in foreign diplomats to register complaints.
Calls for comment to the White House and the State Department were not immediately returned.
Read: China's Ire Finally Flares
Meng's arrest, on allegations that she committed fraud to sidestep sanctions against Iran, has become a flash-point in ties between the U.S. and China that's rattled investors and sent stock markets tumbling.
The U.S. on Friday began a case against the Chinese telecoms giant in a Vancouver courtroom, alleging that Meng had hidden ties between Huawei and a company called Skycom that did business in Iran, said a lawyer representing Canada during the court hearing.
How Huawei Arrest Extends Troubled History With U.S.
Canada's presenting the case on behalf of the U.S., which wants to extradite Meng.
Meng, 46, daughter of Huawei's founder, is spending the weekend in jail after a decision on whether to grant bail was not reached. The case will continue on Monday.
— With assistance by Nour Al Ali
https://www.bloomberg.com/news/articles/2018-12-09/china-foreign-ministry-summons-u-s-ambassador-over-huawei?srnd=premium