.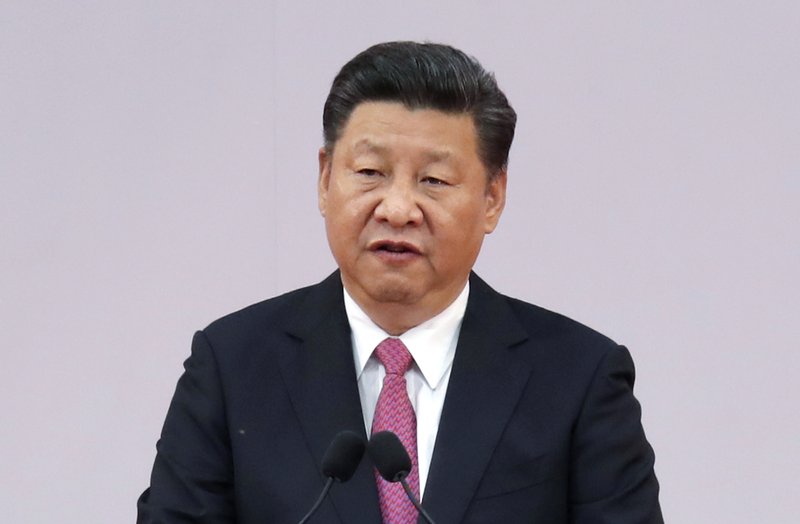 BEIJING (Reuters) – Taiwan is the most important and sensitive issue in Sino-U.S. ties, Chinese President Xi Jinping told visiting U.S. President Donald Trump on Thursday, ahead of the one-year anniversary of Trump taking a precedent-breaking call from Taiwan's president.
China considers democratic Taiwan to be a wayward province and integral part of its territory, ineligible for state-to-state relations, and has never renounced the use of force to bring the island under its control.
The United States has no formal ties with Taiwan but is bound by law to help it defend itself and is the island's main source of arms.
Donald Trump constantly referred to President Xi Jinping as a great friend.
Trump upset China last December by taking a telephone call from Taiwan President Tsai Ing-wen, shortly after he won election, the first call between U.S. and Taiwan leaders since President Jimmy Carter switched diplomatic recognition to China from Taiwan in 1979.
While there was no public mention of Taiwan in comments Xi and Trump made in front of reporters, the official Chinese foreign ministry statement about their talks did not mince its words.
"The Taiwan issue is the most important, most sensitive core issue in China-U.S. relations, and concerns the political basis of the China-U.S. relationship," the ministry paraphrased Xi as telling Trump.
China "hopes that the U.S. side continues to scrupulously abide by the 'one China' principle, and prevents disturbances to the broader picture of China-U.S. ties", Xi added.
Trump told Xi that the United States government upheld and stuck to the "one China" policy, China's official Xinhua news agency reported.
In Taipei, Chiu Chui-cheng, deputy minister of Taiwan's China policy-making Mainland Affairs Council, said China should respect Taiwan's people.
"We think China should deeply understand and respect Taiwan people's opinions on the growth of relations across the Taiwan Strait," Chiu told reporters.
Trump and his team should have skimmed through Martin Jacques' book…. Going without a plan to make make a meaningful deal with China is always a waste of time….
"We are also willing to work with the other side to find a new, positive model in cross-straits ties that would use dialogue to resolve differences, and to create a proper path for harmonious relations."
China suspects Tsai wants to push for the formal independence of Taiwan, a red line for Beijing. Tsai says she wants to maintain peace with China but will defend Taiwan's democracy and security.
China has pressured Taiwan since Tsai took office last year, suspending a regular dialogue mechanism and slowly peeling away its few remaining diplomatic allies.
China is deeply suspicious of U.S. intentions toward Taiwan, and was upset when the United States recently allowed Tsai to transit through Hawaii and Guam on her way to and from diplomatic allies of Taiwan's in the Pacific.
Defeated Nationalist forces fled to Taiwan in 1949 after losing a civil war with the Communists.
Reporting by Ben Blanchard; Additional reporting by Jess Macy Yu in TAIPEI; Editing by Clarence Fernandez and Nick Macfie
**************************************
China's Xi warns Trump of 'negative factors' hurting US ties
July 3, 2017
BEIJING (AP) — Chinese President Xi Jinping warned President Donald Trump on Monday that "some negative factors" are hurting U.S.-China relations, as tensions flare anew over a slew of long-standing sore points.
Xi's comments in a phone call with Trump follow Beijing's displeasure over U.S. arms sales to rival Taiwan, U.S. sanctions against a Chinese bank over its dealings with North Korea and, most recently, the sailing of a U.S. destroyer within the territorial seas limit of a Chinese-claimed island in the South China Sea.
Beijing was also miffed after the State Department gave Beijing a dismal grade last week in a new human trafficking report.
According to state media, Xi told Trump in their call that Beijing expects Washington to continue managing relations on the basis of the "one China" principle that rules out formal contacts with Taiwan, which China claims as its own territory.
"Xi Jinping emphasized that, since my meeting with the president at Mar-a-Lago, China-U.S. relations have achieved important outcomes," state broadcaster China Central Television reported, referring to Xi's meeting with Trump in Florida in April. "At the same time, bilateral relations have been affected by some negative factors. China has expressed its position to the U.S."
Seeking to lighten the message slightly, Xi also said that China-U.S. relations had achieved "important outcomes" since the Florida meeting.
It's unclear whether any of those issues will come up in discussions at the G-20 summit in Germany this week, at which Trump and Xi are expected to hold a bilateral meeting.
But it now appears that China is pushing back against the U.S. pressure, setting the stage for a potential confrontation.
China's foreign ministry accused the U.S. of violating Chinese sovereignty and disrupting "peace, security and order of the relevant waters" after the U.S. Navy destroyer USS Stethem sailed Sunday within 12 nautical miles (22 kilometers) of tiny Triton island, which is claimed by China, Taiwan and Vietnam.
China's defense ministry issued a similar statement Monday, saying it would beef up patrols and take precautions commensurate with the threat level to safeguard "national sovereignty and security."
Trump and his top aides have done little to hide their irritation over what they see as the reluctance by China, North Korea's main economic partner, to tighten the screws on Pyongyang over its nuclear and missile programs.
Until recently, American officials had been describing China as a partner in their strategy to prevent North Korea from developing the ability to strike the U.S. mainland with nuclear weapons. While China has agreed to sanctions, it is wary of measures that could cause the regime's collapse, leaving a united, U.S.-backed Korea on its border.
However, Trump hinted last month at his loss of patience, tweeting that his bid to secure a tougher Chinese approach "has not worked out."
Asked about the state of ties, Chinese foreign ministry spokesman Geng Shuang said Monday that it was normal to encounter "some issues in the process of developing the bilateral relationship."
"We believe that the significance of our bilateral relationship has already exceeded the bilateral scope and is exerting important influence on the development of the whole world," Geng told reporters at a regularly scheduled press briefing.
"On our part, we are willing to develop the bilateral relationship based on non-confrontation, mutual benefit and mutual trust, expand cooperation and properly manage differences between the two countries so as to further advance the bilateral relationship."
Along with Xi, Trump also spoke with Japanese Prime Minister Shinzo Abe, with whom he reaffirmed a shared commitment to dealing with North Korea, the White House said. It said the president also looked forward to meeting Abe at the upcoming G-20 summit in Hamburg.
Abe praised Trump for the recent U.S. sanctions on the small Bank of Dandong over its alleged support for North Korea's nuclear program, according to Japanese Chief Cabinet Secretary Yoshihide Suga. That severs the bank entirely from the U.S. financial system, pending a 60-day review period.
Suga said that during their 35-minute phone conversation, the two leaders reaffirmed close coordination between their countries and South Korea in stepping up pressure on North Korea.
The talks were meaningful for the two leaders "to be on the same page" about their approach to North Korea ahead of the G-20 summit, Suga said.
Related:
Donald Trump heaps praise on Xi Jinping, makes no breakthrough on North Korea or trade — Was this a "Fool's Errand"?