The Guardian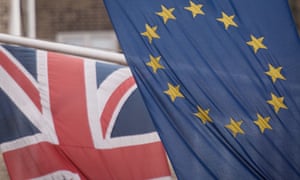 Efta, set up in 1960, consists of Switzerland, Norway, Lichtenstein and Iceland. Photograph: Stefan Rousseau/PA
The UK is examining a potential shortcut to securing a raft of critical free trade deals, giving it potential breathing space to negotiate its own agreements after it leaves the EU.
The proposal, involving an associate membership of the European Free Trade Association, could allow ministers to sign up to Efta's existing free trade deals outside the EU, rather than negotiate them from scratch or fall back on bare WTO terms.
Efta, set up in 1960, consists of Switzerland, Norway, Lichtenstein and Iceland.
A report by the Swiss thinktank Foraus published this week argues that by joining Efta as an associate member in the manner of Finland, the UK would have access to its valuable free trade deals but would be able to avoid the EU's rules on free movement. "It would allow the UK to preserve a status quo in non-EU trade, instead of starting from scratch" said Cenni Najy, a Foraus research fellow. "The natural house of Britain is Efta."
Some employers' groups, such as the Institute of Directors in a report in February, have also suggested the UK look at the merits of applying to join Efta, so as to gain swift access to its 27 free trade deals covering 37 countries and 900 million consumers.
Foraus argues that post-Brexit, the UK will lose access to the EU's 45 preferential trade agreements with countries and regional groupings all around the world. Another five agreements, including with Canada, are due to be signed shortly by the EU.
The EU has made it clear the UK must not prepare or negotiate third-party trade agreements in any meaningful detail until after it has left the EU and the customs union. Foraus argues UK membership of Efta would at least give the UK swift access to the free trade deals that Efta has signed. Efta has, for instance, signed deals with countries and groups that the EU has not, such as the Gulf Cooperation Council and Hong Kong.
Other advantages of Efta include its relatively small trade-focused bureaucracy that has no political pretensions. Efta membership also guarantee free trade between its members. Its four member states are free to negotiate bespoke trade deals with countries that Efta also has agreements with, something that would attract the UK. Efta as a block, for instance, has a trade deal with Hong Kong, but Switzerland, an Efta member, has an additional deal with China.
Read the rest:
https://www.theguardian.com/politics/2017/jul/02/uk-shortcut-free-trade-post-brexit