Markets have rallied on incoming president's promise of liberal economic reforms Bolsonaro is a recent convert to free market economics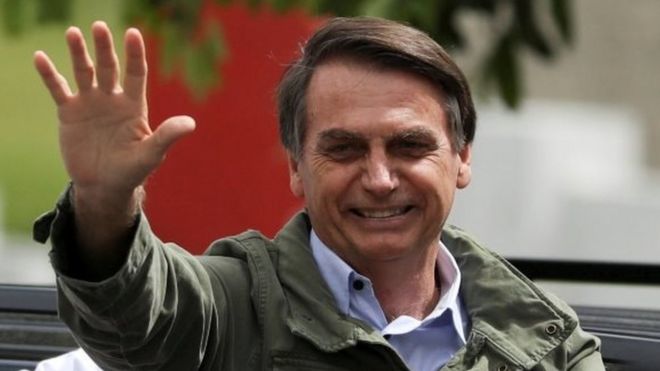 Far-right candidate Jair Bolsonaro has won a sweeping victory in Brazil's presidential election.
By Joe Leahy in São Paulo and Andres Schipani in Rio de Janeiro
In an interview on the eve of his historic victory in Brazil`s presidential elections on Sunday, far-right politician Jair Bolsonaro delivered a shock to his supporters in the financial markets.  The former army captain, who defeated his rival Fernando Haddad of the leftist Workers` Party in the landmark election, proposed the central bank set "targets" for Brazil's exchange rate.
For many economists, such a move would be catastrophic — a freely floating exchange rate is regarded as one of the pillars of Brazil's economic stability because it allows the currency to act as a shock absorber.  "We have to establish targets for the dollar, inflation. Then, interest rates," Mr Bolsonaro said in an interview with Brazilian website Poder360.
The comments underlined what some economists see as the risk of a Bolsonaro presidency. While the former army captain won partly by wooing investors with promises of orthodox liberal economic reforms, he spent most of his nearly 28 years in congress as a "corporatist" — protecting the interests of his political base in the security forces by voting against reforms, including privatisations and changes to pensions. The outspoken lawmaker`s conversion to liberal economics is about as recent as his rebirth as an evangelical Christian; he was rebaptised in the Jordan River two years ago.
"That will be one of the more serious conflicts," said José Francisco de Lima, chief economist at Brazil's Banco Fator, on liberalism versus corporatism in the future Bolsonaro presidency.
The challenges facing the new president on the economy are severe. Brazil is struggling to emerge from its worst recession in history, with unemployment running at 12 per cent. Meanwhile, the budget deficit is running at 7 per cent of gross domestic product and public debt is nearing 80 per cent of GDP — high for an emerging economy.
Worse, Brazil spends much of its huge government budget on salaries and a regressive pension system that overly benefits well-paid public servants.
"The problems we are facing are huge," said one private equity executive in São Paulo, who said he remained pessimistic despite the Bolsonaro victory.  The markets' hope is Mr Bolsonaro`s appointment of University of Chicago-trained economist Paulo Guedes as his economic guru. A co-founder of BTG Pactual, once the country's biggest homegrown independent investment banks, the maverick investor currently runs investment fund Bozano Investimentos. A political outsider, he first met Mr Bolsonaro late last year.
Paulo Guedes
"Order, what an open society needs is order," said Mr Guedes in an interview earlier this year, explaining the rise of Mr Bolsonaro. Economists expect Mr Guedes to maintain a freeze on fiscal spending introduced by current President Michel Temer.
They also see him introducing formal autonomy for the central bank and allowing state-owned oil company Petrobras to set fuel prices based on market tendencies.
On Sunday evening, following the victory of his putative future boss, he said pension reform as well as slashing state's privileges and waste would be a priority for the new government.
Tax would be "brutally" simplified. Those gaining up to five "minimum salaries" — about R$5000 per month — would be exempt and those gaining more than that would pay a flat rate of 20 per cent, down from 27.5 per cent. Pensions would be reformed and the number of ministries cut by half, with Mr Guedes himself possibly becoming a super minister in charge of finance, planning and international trade.
There is speculation he might keep some members of Mr Temer`s economic team, especially central bank chief Ilan Goldfajn. "We are so far from the efficiency frontier that if you keep removing distortions you could have three to four years of rapid growth," Mr Guedes said.
Mr Guedes might also attempt a massive privatisation programme generating up to R$700bn in revenue to help pay down debt, according to estimates by Marcos Casarin, of Oxford Economics.
"We tend to agree with most of the measures Bolsonaro has proposed," said Mr Casarin in a report, leaving aside the tax cut, which he described as "regressive".
"What we are not so sure about, though, is whether he will be able to implement all of his proposals without creating more social divisions."
Businesspeople in São Paulo, however, are most concerned about Mr Guedes himself. The investor is under investigation over his dealings with state pension funds — he has decried the cases as a political smear campaign. Of concern also is what they describe as his gruff temperament, which some believe will be ill-suited to public life.
"It's going to be an alliance of the centre and right in politics around a liberal economic programme," Mr Guedes said of the new government.
It would not be radical or "ultra-liberal" — nothing of the kind, he said.
After successive interventionist PT governments, investors are hopeful Brazil will implement its first genuinely liberal economic programme in years. But for many, the proof will be in the pudding, especially given the doubts over Mr Bolsonaro's own convictions.
"These kinds of more unpopular adjustment policies, they require political leadership and the capacity to organise and convince congress to do it, that is a big question mark — will they be able to do it," said Alberto Ramos, economist with Goldman Sachs.
https://www.ft.com/content/e769d796-daf8-11e8-9f04-38d397e6661c
Related:
Bolsonaro's vision for Brazil — "Brazil above all, God above everyone."