President Trump's threat to shut down the government over border wall money left lawmakers scrambling on Tuesday for a deal to fund the remaining 25 percent of the government before a Dec. 21 deadline.
"We've got ten days. I think something will break between now and then but I could be wrong," said Senate Appropriations Committee Chairman Richard Shelby, R-Ala. He spoke soon after Trump, Chuck Schumer, and Nancy Pelosi made it clear in a public feud at the White House that a deal was nowhere in sight.
"There are a lot of proposals floating around," Shelby said. "A lot of them are just thoughts today."
By Susan Ferrechio
Washington Examiner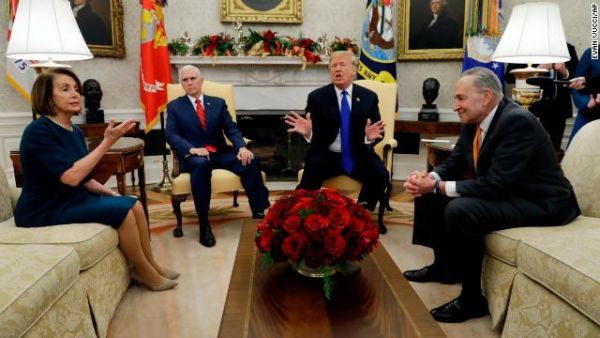 Senate Minority Leader Schumer, D-N.Y., and House Minority Leader Pelosi, D-Calif., said they told the president they could agree to extend temporary funding for the Department of Homeland Security until next year, when House Democrats are in the majority. Their only other option was a deal that keeps border security funding at $1.6 billion, which is below the $5 billion Trump wants to complete a wall along the Mexican border.
But Trump told Pelosi and Schumer he'd be "proud" to shut down portions of the government and take the blame if he can't get $5 billion.
During a closed-door lunch with Republicans Tuesday afternoon, Vice President Mike Pence described the meeting between Trump and the Democrats as "memorable." But it also creates a real puzzle for lawmakers who want to figure out a deal over the next 10 days and go home.
"Does it cause a wider breach or does it cause some people to go home and say we've got to get this done?" Shelby wondered about Trump's open battle with Democrats. "Sometimes an impasse brings us together, sometimes it drives us apart."
The impasse leaves Republicans with few options. If no deal emerges, they could pass a temporary spending bill, but there is no guarantee the president would sign it. And if Trump refused to sign it, a supermajority in both Republican-held chambers would be needed to override his veto.
"I would think it would be difficult for a Republican majority to override a Republican president and probably unwarranted," Shelby said about that idea.
Republican leaders have always been eager to avoid a shutdown or any threat of one, even if Trump is willing to take the blame.
"I hope that's not where we end up," said Senate Majority Leader Mitch McConnell, R-Ky. "One thing I think is pretty clear no matter who precipitates the government shutdown, the American people don't like it and I hope that will be avoided and that both sides will understand that's not a great way to end what has, in my view, been the most successful Congress right-of-center in decades."
Some red-state Republicans backed Trump's shutdown comments, arguing the American public wants border security and a wall can provide it by stopping the influx of illegal immigrants pouring across.
"If you talk to the people in my state, they want border security," Sen. David Perdue, R-Ga., told the Washington Examiner. "They know it's a national security issue. The president has been serious about this. It's time to get that done."
Sen. Lindsey Graham, R-S.C., called Trump's funding request "imminently reasonable" and said Democrats' "arrogance toward Trump needs to come to an end."
Sen. John Kennedy, R-La., said he is opposed to shutting down the government, but said Democrats need to recognize that Trump won't give up the fight this time.
"I don't think the president is bluffing," Kennedy said. "It's up to the Democrats to understand that illegal immigration is illegal."
A shutdown is likely to rattle the nerves of many Republicans. The party is still spooked by the 2013 government shutdown triggered by House conservatives who were trying to defund Obamacare.
Polls following that shutdown showed the public overwhelmingly blamed Republicans, although the party then picked up 13 House seats in November and took over the Senate majority. Still, GOP leaders don't seem to like that option.
"Shutting down the government doesn't solve any problems, all it does is delay confronting the same problem that you shut the government down for," said Senate Majority Whip John Cornyn, R-Texas. "My experience has been that shutdowns don't help anybody."
https://www.washingtonexaminer.com/news/congress/trump-pelosi-brawl-sends-congress-back-to-the-drawing-board-on-spending
Related:
Trump, Pelosi, Schumer have extraordinary exchange over border wall