Italy's bonds led losses among euro-area sovereign debt markets as the Turkish currency turmoil fueled fears of a contagion effect across riskier assets.
CreditReuters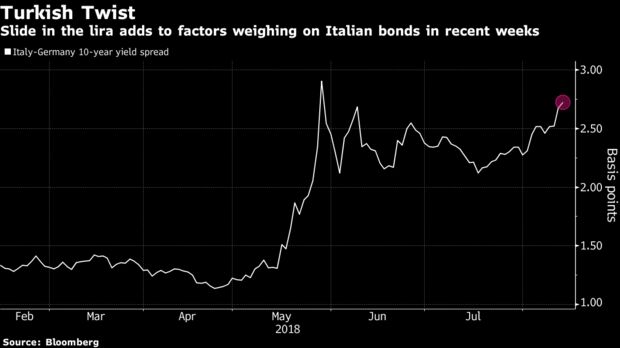 Yields on two-year securities climbed to the highest levels in more than a week as stocks worldwide declined following a tumble of more than 28 percent in Turkey's lira this month. The Italian 10-year spread over German bunds hit the highest since May. Deputy Prime Minister Luigi Di Maio was reported as saying in an interview Monday that his country won't be subject to an attack by speculators.
"It's just a flight to safety move, with peripherals and in particular short-term BTPs hit relatively hard," said Martin van Vliet, senior interest-rate strategist at ING Groep NV. "Di Maio's comment on speculative attacks is also not taken positively, as this sort of echoes the economic warfare rhetoric from the Turkey leadership."
Italian bonds also dropped amid investors concerns about the new government's spending plans ahead of next month's budget.
Two-year yields climbed as much as 18 basis points to 1.34 percent, while those on their 10-year debt rose eight basis points to 3.07 percent. The spread over German 10-year yields increased eight basis points to 276 basis points, the highest level since May.
https://www.bloomberg.com/news/articles/2018-08-13/italian-bonds-slump-as-shock-waves-from-turkish-turmoil-spread
**********************************************
 Turkey and Russia are bracing for financial chaos this week.
Increased tariffs on Turkey's steel and aluminum exports to the U.S. have accelerated the lira's tumble, setting in motion economic confusion that could spill over into other countries in the region. At the center of the dispute between the two NATO allies is a detained American pastor, but it doesn't help that President Recep Tayyip Erdogan of Turkey, above, and President Trump are both strong-headed leaders.
Russia's currency, the ruble, also took a beating after the Trump administration sanctioned the country for the attempted assassination of a former Russian spy and his daughter.
Italy's Five Star Movement faces its first national test.
The party campaigned to block a proposed pipeline that would transport gas from the Caspian Sea to southern Italy. That won over southern Italians like Alfredo Fasiello, above, who have long been wary of the pipeline's environmental risks.
But now that Five Star is in power, it is wavering on that promise as pressure mounts to wean the country off Russian oil and gas by finding alternative sources.
To complicate matters further, Russia and four other countries that border the Caspian Sea — Iran, Kazakhstan, Azerbaijan and Turkmenistan — have agreed to divide the oil and gas-rich seabed among them. The agreement, which comes after three decades of Russian opposition, could have consequences for the construction of the trans-Caspian pipeline to Europe.
See more:https://www.nytimes.com/2018/08/13/briefing/turkey-italy-nasa.html