Access to Wikileaks Blocked in Turkey as It Releases Emails
The Associated Press
ISTANBUL — Access to the Wikileaks website in Turkey has been blocked after the group announced, following a failed coup by Turkish military units, that it would release a trove of documents on the country's power structure.
There was no immediate statement Wednesday from Turkey's Telecommunications Board, a government agency that regulates access to websites.
The Turkish government has previously banned access to websites deemed to be carrying material critical of Turkey, including YouTube and Twitter. Some opposition media websites were blocked following Friday night's coup attempt, which was quashed by security forces loyal to President Recep Tayyip Erdogan.
Wikileaks said on Twitter that Turks who are blocked from accessing its website can "use a proxy or any of our IPs" to get access to the documents on Turkey's ruling party.
*********************************
WikiLeaks has claimed it will release documents on Turkey's political structure after the country was shook by a failed military coup.
According to the transparency organisation, it will release 500,000 unspecified documents and 300,000 emails it has called the "Erdoğan Emails" on Tuesday.
Since announcing the leak, the anti-secrecy website said its servers were under "sustained attack".
The organisation added it was uncertain of the source of the threat, but it vowed: "We will prevail and publish".
WikiLeaks has indicated the documents will cause further controversy in a country that is already fiercely divided. On Friday evening, officers from sections the Turkish military blocked off roads and bridges in Ankara and Istanbul. More than 250 are dead after the attempted coup, with 100 of those killed were soldiers taking part.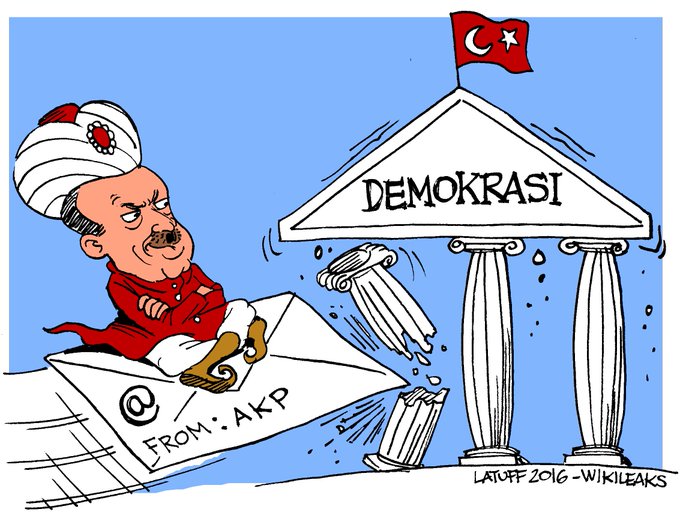 Coming Tuesday: The #ErdoganEmails: 300 thousand internal emails from Erdoğan's AKP – through to July 7, 2016.
Recep Tayyip Erdoğan has promised to "purge" the public bodies of the "virus" responsible for the revolt and refused to rule out the death penalty for those involved.
Many fear the failed coup is being used by Mr Erdoğan to tighten his grip on the country. Judges and legal officials make up half of the 6,000 detained by the regime after the attempted coup.
The website has repeatedly stated its neutral position in relation to Mr Erdoğan's ruling party, the Justice and Development Party (AKP), stating the leak "both helps and harms" them.
"Turks ask whether WikiLeaks is pro or anti-AKP. Neither. Our only position is that truth is the way forward," it said.
Read the rest:
http://www.independent.co.uk/news/world/europe/wikileaks-erdogan-emails-turkey-government-secret-documents-leaked-email-a7144276.html
Related:
Turkey Coup Attempt: Crackdown Toll Passes 50,000 — Erdogan's Purge More Perilous than The Coup Itself — "This Revenge is Enough to Destroyed Turkey"
Turkey: Erdogan's Purge of Coup Plotters and The Disloyal Now Over 50, 000 — But Instability May Be The Result — "Nobody Will Come Out of This The Winner"
Turkey — Men arrested after coup attempt. Photo from July 16, 2016
Related:
Turkey: Erdogan now has 7,000 under arrest "for plotting the military coup and committing treason"
© AFP / by Fulya Ozerkan with Stuart Williams in Ankara | High ranking Turkish military officials attend a funeral ceremony for police officers killed during the failed coup attempt, in Ankara, on July 18, 2016
.
******************************
If the Turkish press cannot criticise Erdoğan, then foreign media must speak out
By Will Gore
The Independent
For the media in this country to give Erdoğan a free pass would be a gross failing, not least in the eyes of independent Turkish journalists whose work has been hampered by the serious erosion of press freedom in their homeland