Uyghurs in China's northwestern Xinjiang region are being tortured, raped, and killed in secretive "political re-education" camps, former detainees have told The Epoch Times.
"Upwards of one million" of the predominantly Uyghur prisoners continue to be detained in what were, until Oct. 9, extrajudicial internment camps in western China, according to figures quoted by the the U.S. Congressional-Executive Commission on China (CECC) and the United Nations.
Chinese Communist Party (CCP) officials say the mass detentions among the Uyghur population, the majority of whom practice Islam, are part of measures to crack down on terrorism, religious extremism, and separatism in the country. The CCP has used the excuse of potential "extremist threats" to justify its strict surveillance and crackdown on Uyghurs and other Muslim minority groups in the Xinjiang region.
First-hand accounts described to The Epoch Times reveal attempts by authorities to strip Uyghur detainees of their culture and language, forcing them to denounce their faith and pledge loyalty to the CCP and its leader.
October 15, 2018
Updated: October 16, 2018
.
If detainees fail to follow orders, they may be subject to up to five forms of torture as punishment, a Uyghur and former inmate explained in an interview from Istanbul, Turkey.
Xinjiang-born Omir Bekli, 42, a Kazakhstan national since 2006, was detained for six months in March last year after he was forcibly taken from his parents' home in Shanshan—180 miles east of Urumqi, the capital of Xinjiang—his head covered in a black sack before being whisked away.
He was visiting Urumqi at the time to attend an international meeting about tourism.
Bekli was detained for seven months in a police cell and then sent to a reeducation camp in Karamay for 20 days where he was tortured, with one of the reasons being his refusal to sing songs which praise the CCP and its leader Xi Jinping.
"The torturing methods were very inhumane and extremely unbearable," Bekli told The Epoch Times.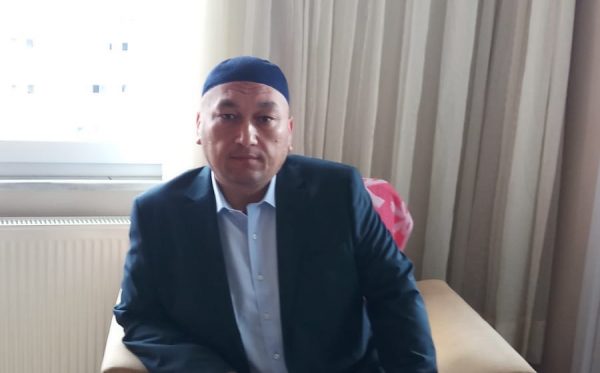 Uyghurs are "chained up like animals," deprived of food and sleep, and beaten until their bodies are "swollen and pouring blood."
"They make you fear and make you weak, physically and mentally, so that they can make you obey them," Bekli explained.
Another Uyghur detainee—a Kazakhstan national aged 54 who was released in September from a camp in Urumqi after being detained for 15 months—told The Epoch Times that young Uyghur women are being raped daily by CCP officials in the camps and could be killed if they resist. The 54-year-old spoke on condition of anonymity from Istanbul due to fears for her safety.
"Young girls are taken out and raped all night long. If you keep resisting, they will inject you with something and kill you," she said.
She has personally witnessed two Uyghur females being killed by injection, she told The Epoch Times.
"There are usually 40 to 50 people in one small room, but five to 10 are regularly taken out and they just disappear—they never come back. People are being killed in tens all the time."
Read more:
https://www.theepochtimes.com/former-uyghur-inmates-tell-of-torture-and-rape-in-chinas-re-education-camps_2689053.html
Related:
Internment camps make Uighurs' life more colourful, says Xinjiang governor — "Not Muslims prison camps"
China rolls out PR push on Muslim internment camps (Really just "vocational education")
China is not mistreating Muslims in Xinjiang — Just training courses — Like your children go to vocational training schools — Only with solitary confinement