.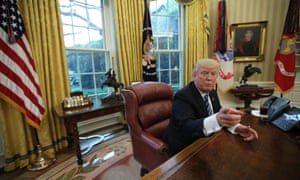 US President Trump speaks during an interview in the Oval Office at the White House in Washington. Photograph: Carlos Barria/Reuters
Donald Trump has said that a "major conflict" was possible with North Korea though he would prefer to solve the standoff over the country's nuclear and missile programme through diplomacy.
Trump's warning on Thursday came towards the end of a week where the administration has made a concerted effort to restrain Pyongyang from carrying out major new weapons tests.
At the same time, US officials sought to clarify US policy after a variety of mixed signals in the administration's first 100 days.
Rex Tillerson, the secretary of state, said that the US would be prepared to enter into direct talks with the regime of Kim Jong-un, but that it would have to prepare to negotiate getting rid of all its nuclear weapons.
The opening to diplomacy came as the head of the US Pacific Command, Admiral Harry Harris told the Senate that the standoff with North Korea was the worst he had seen. It was an assessment echoed by the president.
"There is a chance that we could end up having a major, major conflict with North Korea. Absolutely," Trump told Reuters.
"We'd love to solve things diplomatically but it's very difficult," the president added.
Trump suggested there had been a breakthrough in Chinese readiness to help apply pressure on Kim since Xi Jinping visited the US president in Florida earlier this month.
"I believe he [the Chinese president] is trying very hard. He certainly doesn't want to see turmoil and death. He doesn't want to see it. He is a good man. He is a very good man and I got to know him very well," Trump said.
"With that being said, he loves China and he loves the people of China. I know he would like to be able to do something, perhaps it's possible that he can't."
Tillerson had earlier said the Chinese had warned Pyongyang, an increasingly unruly client in recent years, that it would impose punitive measures if North Korea carried out provocative tests.
"We know that China is in communications with the regime in Pyongyang," he told Fox News. "They confirmed to us that they had requested the regime conduct no further nuclear test."
According to Tillerson, the Chinese told the regime "that if they did conduct further nuclear tests, China would be taking sanctions actions on their own".
The secretary of state said that the North Korean regime viewed its nuclear weapons and missile programmes as a guarantee of survival, and that the Trump administration sought to change that mindset.
"We want to change that calculus of theirs and we have said to them: your pathway to survival and security is to eliminate your nuclear weapons and we and other countries will help you on the way to economic development," Tillerson said. He assured Pyongyang that the US objective was ridding the Korean peninsula of nuclear weapons, not toppling Kim Jong-un.
"We do not seek a regime change in North Korea. We are not seeking the collapse of the regime."
Tillerson said that the US administration would "wait as long as it takes" for talks to start providing North Korea conducted no new nuclear or intercontinental ballistic missile tests.
The secretary of state did not directly reply to a question on whether this policy was very similar to the "strategic patience" pursued by the Obama administration, which Tillerson had earlier said had come to an end.
In his Oval Office interview with Reuters, Trump offered an assessment of Kim.
Asked if he considered the North Korean leader to be rational he noted that Kim had taken over his country at an early age.
"He's 27 years old. His father dies, took over a regime. So say what you want but that is not easy, especially at that age," he said.
"I'm not giving him credit or not giving him credit, I'm just saying that's a very hard thing to do. As to whether or not he's rational, I have no opinion on it. I hope he's rational," he said.
Meanwhile, in a sign that North Korea's regional neighbours are taking the threat of a conflict seriously, Australian prime minister Malcolm Turnbull warned that Pyongyang could launch a nuclear attack on nations and claimed China has not applied enough pressure on the regime.
"There is the possibility and the risk that North Korea could launch an attack on its neighbours," Turnbull said on 3AW radio.
"That is the reason why there is so much effort being put into seeking to stop this reckless and dangerous conduct by the North Korean regime. They are a real threat to the peace and stability in the region and to the whole world."
Turnbull said while North Korea was often a subject of satire, the country had nuclear weapons and regularly threatened to use them.
"Their threats can appear sometimes to be theatrical and over the top and they have been the subject of satire but I can assure you that my government takes … the threat of North Korea very seriously," he said.
On Friday morning Tillerson will chair a special ministerial session of the UN security council on North Korea, aimed at convincing other members to impose existing sanctions on Pyongyang more rigorously.
https://www.theguardian.com/us-news/2017/apr/28/donald-trump-warns-of-major-major-conflict-with-north-korea
Related:
Trump says 'major, major' conflict with North Korea possible, but seeks diplomacy
Senators describe 'long and detailed' White House briefing on North Korea
North Korean government official says: "We will never stop nuclear and missile tests." — "We will not be influenced by outside events."
U.S., South Korea warn defiant North against new provocation — U.S. Senators Told North Korea is "an urgent national security threat and top foreign policy priority."
***********************************
Trump Warns That 'Major, Major Conflict' With North Korea Is Possible
HONG KONG — President Trump warned Thursday of the possibility of a "major, major conflict" with North Korea, in an interview in which he said he was seeking a diplomatic solution to concerns that Pyongyang was preparing to conduct another nuclear test.
In the interview with Reuters, Mr. Trump praised President Xi Jinping of China for his efforts to resolve the dispute over North Korea's missile and nuclear weapons programs, but he cautioned that diplomatic efforts might fail.
"There is a chance that we could end up having a major, major conflict with North Korea," he said. "Absolutely."
Mr. Trump's remarks came amid signs that North Korea might soon conduct another underground detonation at its Punggye-ri nuclear test site despite Mr. Trump's warning not to do so. China has played a mediating role in the crisis, as Mr. Trump has urged Mr. Xi to use Beijing's leverage with North Korea, a longtime ally, to persuade it not to conduct a test.
"I believe he is trying very hard. He certainly doesn't want to see turmoil and death. He doesn't want to see it," Mr. Trump said of Mr. Xi. "He is a good man. He is a very good man, and I got to know him very well."
In the interview, Mr. Trump actually offered some grudging praise for North Korea's leader, Kim Jong-un.
"He's 27 years old. His father dies, took over a regime," he said. "So say what you want, but that is not easy, especially at that age."
"I hope he's rational," Mr. Trump added of Mr. Kim.
The United States has been pressing the United Nations to impose more sanctions on North Korea over its nuclear and missile programs. The diplomatic efforts have coincided with military maneuvers by the United States and South Korea in Pocheon, northeast of Seoul, South Korea, where the allies have demonstrated some of their latest weapons. In addition, the Michigan, a submarine armed with Tomahawk cruise missiles, has arrived in the South Korean port city of Busan. And a Navy strike group led by the aircraft carrier Carl Vinson has been sent to the Sea of Japan, which borders the Korean Peninsula.
Source:https://www.nytimes.com/2017/04/27/world/asia/trump-north-korea-kim-jong-un.html?rref=collection%2Fsectioncollection%2Fworld&action=click&contentCollection=world&region=rank&module=package&version=highlights&contentPlacement=1&pgtype=sectionfront&_r=0
Read the rest: